"Maybe the highest praise that I can give the Japanese Coffee Subscription by Kurasu is that I'm secretly hoping one of my friends or family members sees this article and signs me up for life." – Geoff Rickly, coffee. curated.
Japan is known as one of the world's coffee hubs, with both the highest number of coffee shops and the invention of some of the most influential techniques: the pour over and siphon (as well some techniques that have yet to come to the US: aged coffee and hot coffee cans in vending machines). Unlike Italy or Australia, Japan isn't defined by one roast profile or preferred way of drinking their coffee but instead seek a disciplined and multi-faceted understanding of all the possibilities that coffee has to offer. It's in this spirit that the bespoke Kurasu service is best understood as a necessity rather than curiosity.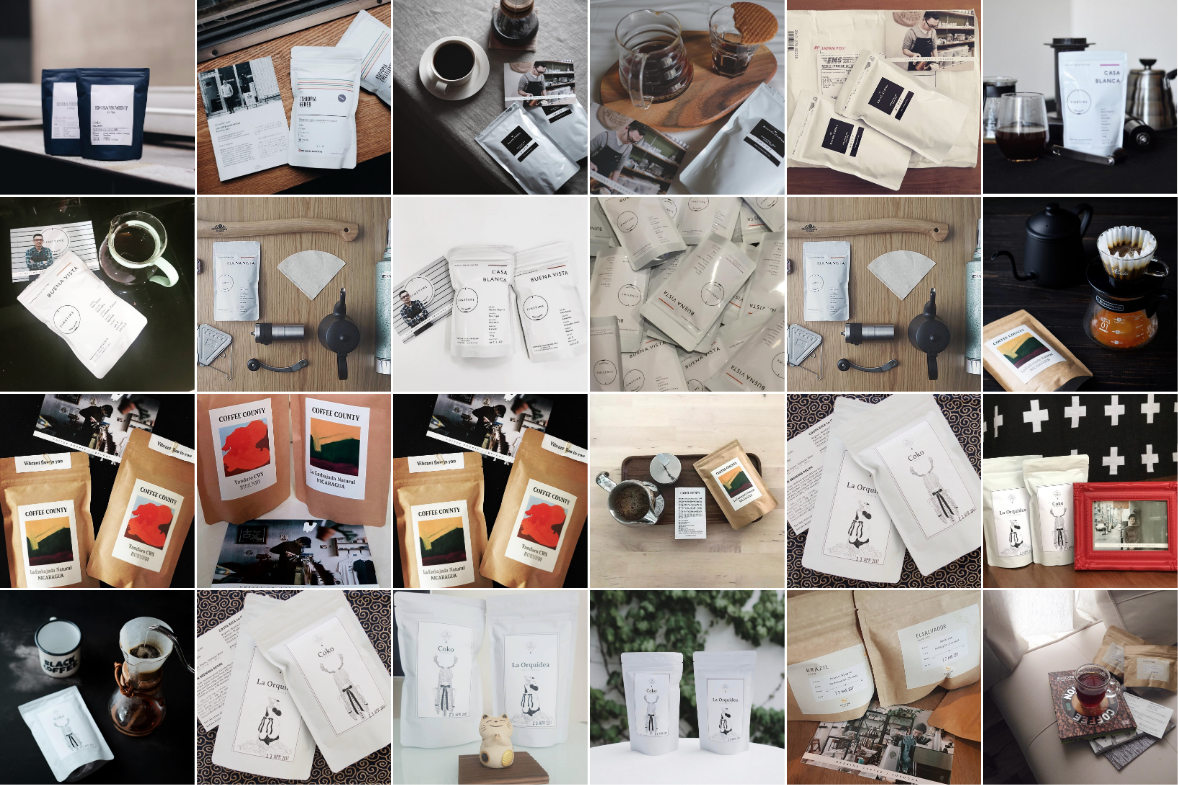 The three months of coffee that the company sent me were from three different Japanese roasters from three different regions with completely different stories, styles and most importantly flavor profiles.
How Kurasu's coffee subscription works:
Two coffees included from each roaster, as well as a small bilingual zine, made sure that I went into each cup of coffee with a deep understanding of what I was drinking, where it was from and why the roaster valued this coffee. The most impressive element in the zine was the inclusion of the roaster's personal recipe for each coffee. In each case, the recipe was wildly divergent from my method and I made sure to A/B the coffees: one cup with their recipe and one cup with mine (the Tim Wendelboe pourover is my default). After the comparison, it became clear: there was no doubt in my mind that these coffees MUST be prepared in the roaster's method for an appreciation of how incredibly nuanced they can be.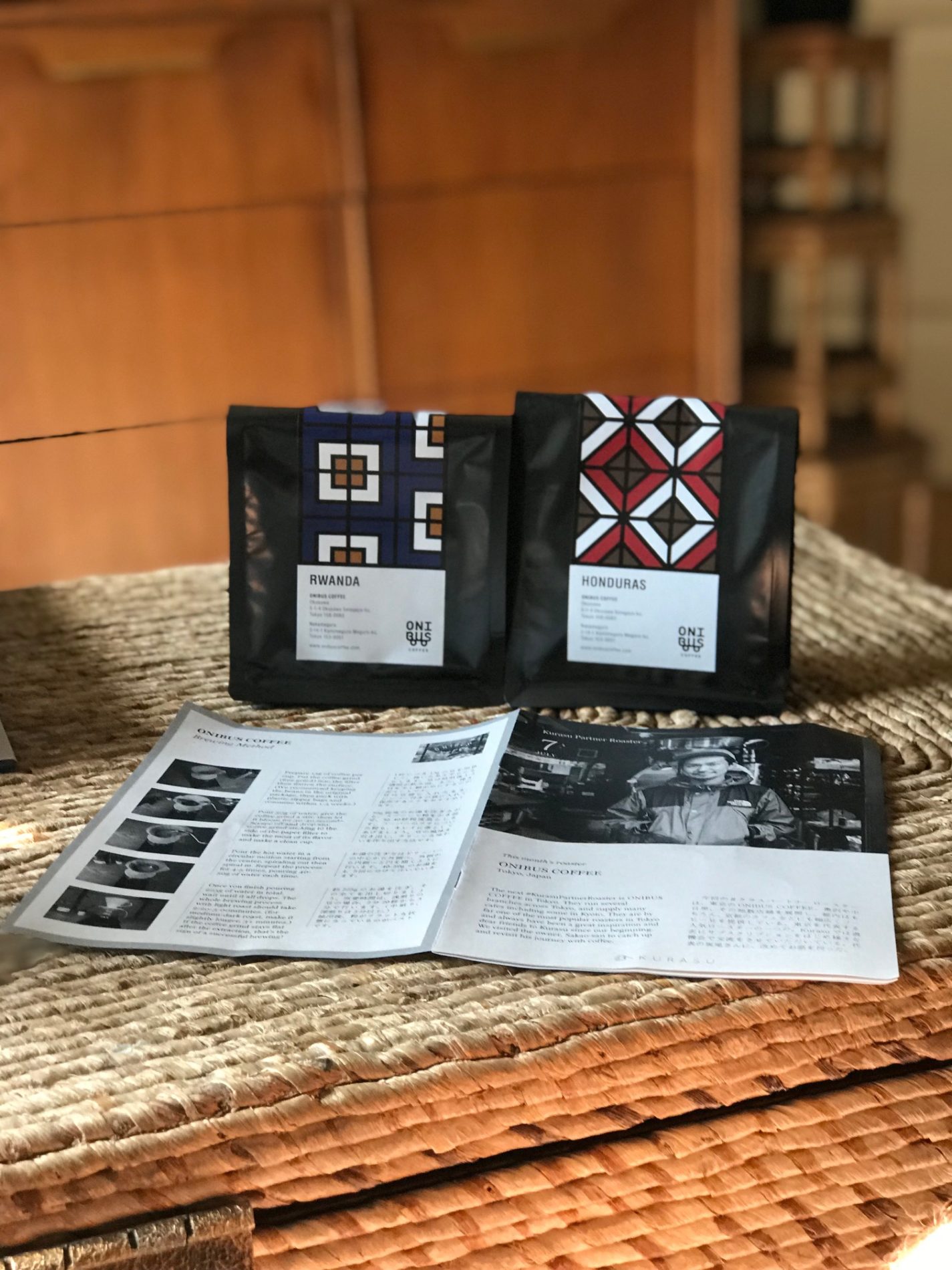 To keep things simple and straightforward, I'm presenting the roasters here in the order I received them in the mail. This doesn't reflect a preference (though obviously I had them), instead, it's meant to illustrate the effect that the order had on me, which was to make me appreciate them more, individually, after I could contrast how different they were.
Roaster Roundups for Coffee. Curated.
ONIBUS COFFEE: Tokyo, Japan
—-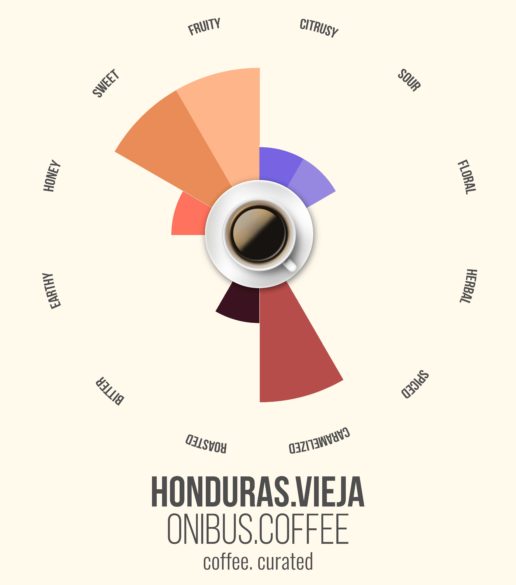 Honduras
Onibus Coffee is located in Tokyo and the roast level is sophisticated and bright, much brighter than I expected from a Japanese Coffee Subscription. Immediately, the Denmark school of roasting comes to mind(Coffee Collective, Tim Wendelboe) when tasting either of the coffees that Onibus provided to Kurasu subscribers. This Honduran Onibus coffee, in particular, presented flavors that I've never encountered so crisply in a cup of coffee. The front of the flavor is a sweet red apple, absent any of the sharper green notes that come from under roasting. Then the most interesting part of the coffee hits the middle of the palate: a rich, holographic plum flavor, without any of the weight or sticky darkness of a prune. And the finish has a whisper of chocolate, that you only taste once it's already gone. Their recipe is very light: 13g of finely ground coffee to 225g of water at 3 minutes extraction time. This is less coffee than I'm used to– and a much finer grind.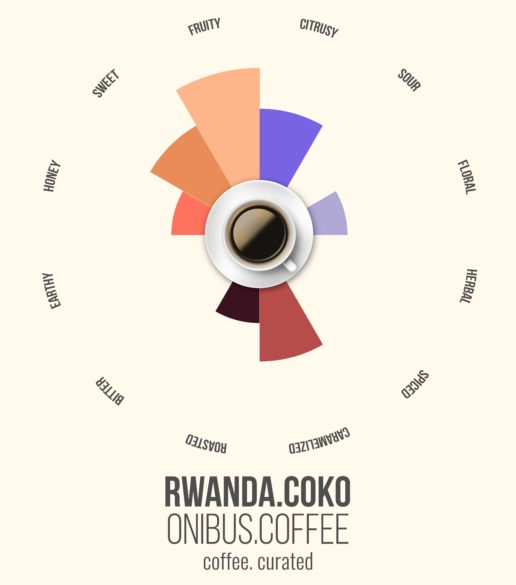 Rwanda
In some ways, this coffee was more surprising than the Honduran. Well, I've had cups of coffee with similar flavor profiles, except that they've all been Columbian coffees. This light orange flavor is very pretty, a perfumed orange blossom with the sugary sweetness of a piece of toffee, the finish has an almost buttery taste but just for a second, giving the impression of brown sugar that the Roaster insists upon. But the whole experience is so light and tea-like that it brings to mind a cup of Orange Pekoe tea that has been heavily sugared(that's certainly how my Nana always drank it, so I would know). The tea notes are the only part that stood out to me as Rwandan. I didn't get the Arnold Palmer flavors or the peanut butter and jelly contrast of some Rwandan coffees and I liked it all the better for it.
SUIREN+ COFFEE: Hiroshima, Japan
—-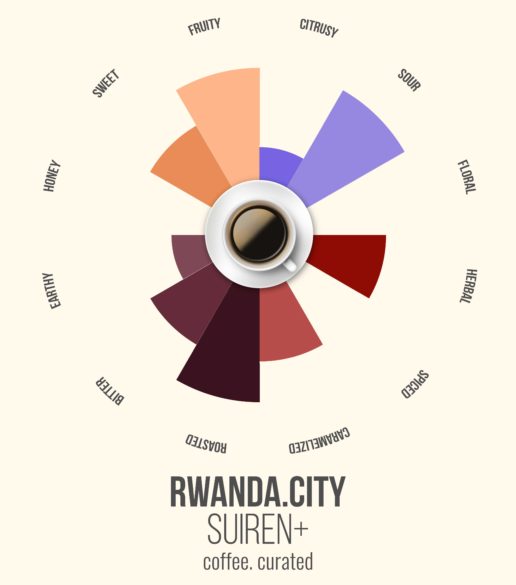 City Roast Rwanda
SUIREN+ hails from Hiroshima and draws inspiration from the Japanese coffee culture of an earlier era. Before Japan began to embrace and experiment with the lighter roasts that Onibus Coffee and HOOP Roasters do so beautifully, every coffee shop and cafe in the land had their own Roaster serving the nearby town. These roasters experimented with a Japanese take on a darker roast: most comparable to French or Italian Roast. This "City Roast" is comparable to a medium/dark roast(Starbucks would call this their medium roast and they're always at least one notch darker than they claim).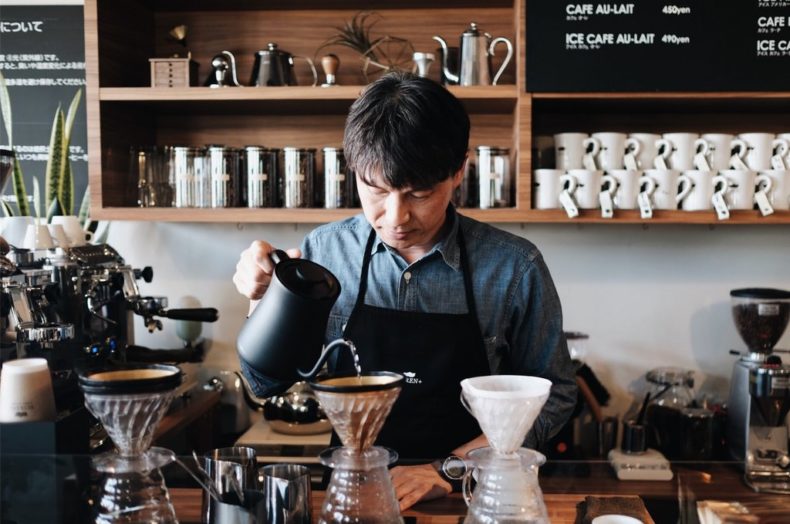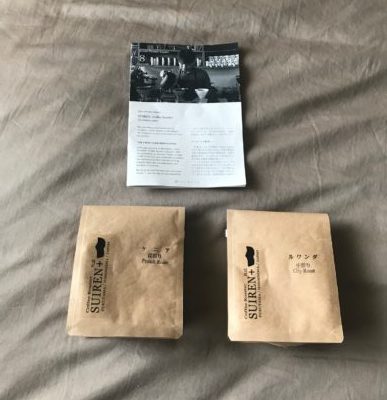 Keeping with a theme, this coffee has flavors that I've only ever tasted in a Columbian coffee and, only there thanks to the incredible Devoción Roasters, who always have the most surprising and diverse crops out of that lovely region. This coffee is more of an interesting curiosity for me than a coffee I crave. The tasting notes say Pineapple and "Fresh tomato" —  I certainly taste the strange savory-sweet notes of a just-ripe tomato. The pineapple notes are less Pina Colada and more stir fry. Somewhat sour, somewhat savory with a light sweetness in the middle, this coffee isn't bad by any stretch. It's actually way more drinkable than it sounds. It's only when you really start to think about what it actually tastes like that it becomes a puzzle.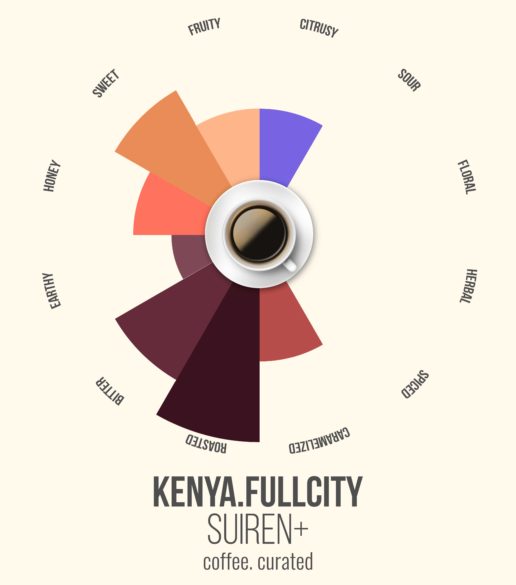 Fullcity Roast Kenya
Fullcity Roast is SUIREN+ version of a French Roast. A single origin, Kenyan, French Roast. It's hard to believe anyone would do such a thing. I consulted a few friends who roast coffee in the US and UK and they were as baffled as I was: "I don't see how you'd get anything new from roasting it that dark and you'd certainly lose some flavors" lamented the Brit. The mystery only deepened when I saw that the recipe called for a pourover to be made with 80-degree-Celsius water(15 degrees cooler than normal) and more coffee than I'd use for a cup. However coffee moves in mysterious ways and the low brew temperature, extreme dark roast combination yielded a beautiful deep cherry, blackberry, 76% dark chocolate flavor. Just on the edge of smoky, without succumbing to the tangy burn that can ruin delicate flavors, the intricacies of color all dance in the lowest frequencies of light. Instead of light orange and red notes, this coffee is all blood red and deep purple. This coffee is eye-opening for anyone who sees dark roast as an exercise in monochrome.
HOOP COFFEE: Osaka, Japan
—-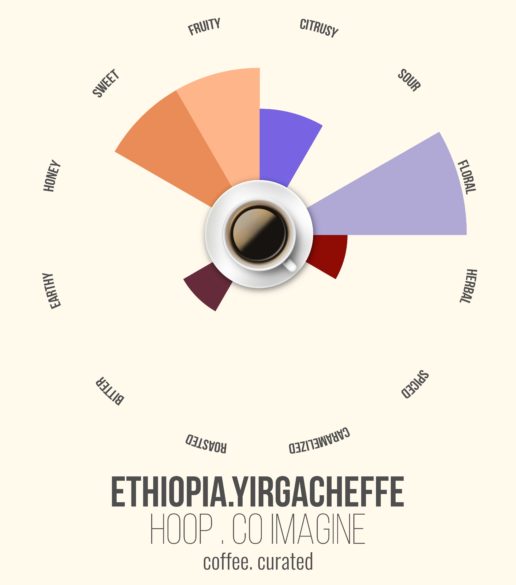 Ethiopia Yirgacheffe Gedeb
Yamada-san, one of HOOP's founders and the Roaster of this beautiful Ethiopian coffee, produces her coffees in Osaka, in one of the country's first Roast co-ops. HOOP not only opens their space and machine to young and small roasters, they offer apprenticeship. This Yirgacheffe is the perfect example of why they should be teaching people how to honor the flavors inherent in a perfect coffee.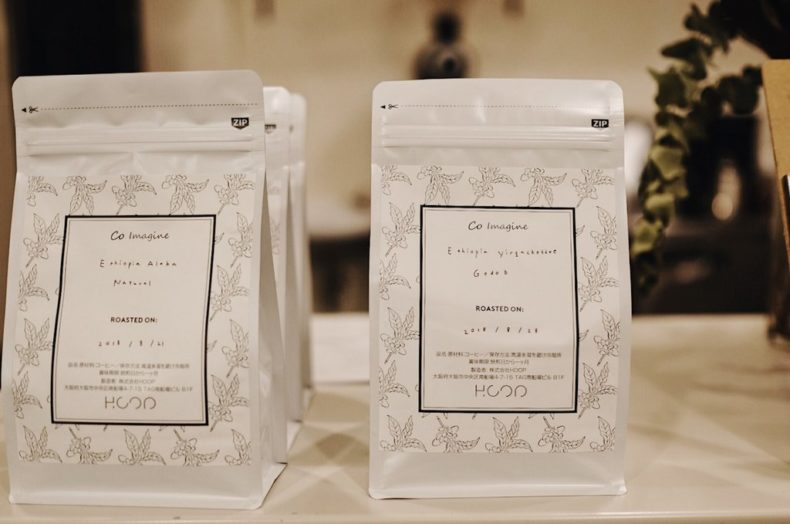 This coffee is easily my favorite of the ones that Kurasu Japanese Coffee Subscription shipped to my apartment. It has the beautiful acidic brightness of fresh lemons on the top end and the complex bitter sophistication of an Earl Grey tea on the bottom. In the middle, a creamy peach flavor just barely develops after a minute of cooling time, just in time to thread the two ends of the coffee together, in a tapestry of flavor. There's a deep satisfaction in a cup of coffee like this one: all the pieces fit together in a way that seems too perfect to be of this world, in a way that feels precious and life-affirming. Damn, I lost myself for a second there, tripping off the coffee!!!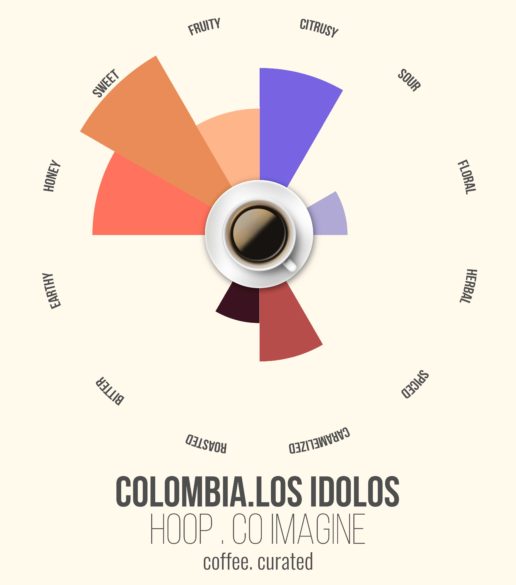 Colombia Huila Los Idolos
I've had a few different roaster's versions of this coffee recently and this is the most subtle version of it that I've tried. It's true that there's a light orange flavor as well as the hint of chocolate. But listing those flavors gives the impression of a coffee that's more robust than this one. The third flavor listed is walnut, although this is the sweet part of the walnut with just the slightest hint of bitterness. Truthfully this is a very light and airy coffee. It tastes the way oranges smell. If you could make an aerosol spray of walnuts and chocolate this is what it would feel like to have it sprayed– just once –on your tongue: I think I can taste it. No, it's gone. 
My three months with Kurasu Japanese Coffee Subscription were over too soon. This makes a perfect holiday gift for someone curious about the vibrant coffee customs of Japan or anyone seriously serious about coffee. Thanks for joining us again for another Roaster Roundup on Coffee. Curated. ☕️ stay tuned for more coffee reviews coming this month!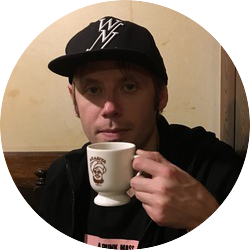 –Geoff Rickly, musician/writer/coffee enthusiast, coffee. curated.
#eatmorestories