"I'd say Partners Coffee Roasters made this for the coffee aficionado who needs a kick in the pants." – Geoff Rickly, coffee. curated.
The Roaster formerly known as Toby's Estate
Recently, my friend Paige Flynn asked me what coffee I've been loving around New York City.  Being the recently sober obsessive personality that I am, I unloaded a fifteen-minute diatribe on the excitement of SEY Coffee and their incredibly refined, almost Nordic, roasts.  I brought her through the unexpected versatility of Colombian coffee in the hands of Devociòn and explained the farm to cup approach of Nobletree.  She smiled patiently at me and asked, "What about Toby's Estate?"  Of course.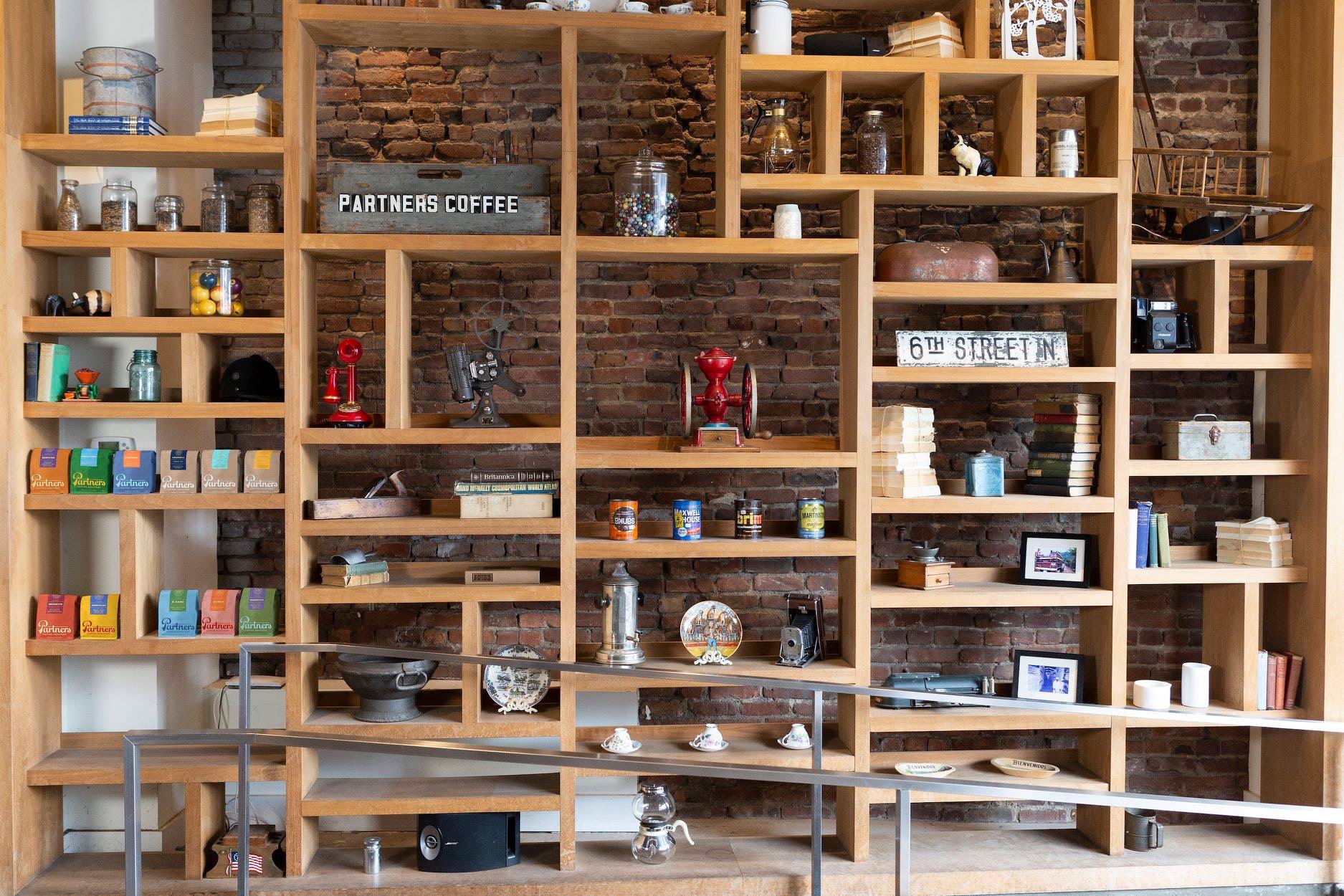 How was it that I hadn't remembered that Paige was now the Director of Retail, running the cafes at Toby's Estate?  How have I managed to maintain such an insular and self-obsessed point of view, even in sobriety?  "Well," I told her, "I tend to root for the underdogs… Toby's seems a little massive/conglomerate to me.  I mean, I'm not reviewing Blue Bottle, either."  She told me that she's heard that before but that the New York version of Toby's Estate is the largest independently owned and operated cafe and roastery in the NY area. She gave me a time and a date to come in and meet some of their people, check out the roaster, drink some coffee.
Well, now I've really stepped in it.  That was what I thought when she asked me to come in.  After all, I had some great flat whites at Toby's in Australia, a decade or so ago.  But hasn't our New York coffee culture caught up with the Australians by now?  "That's a popular misconception," said Allie, Director of Education, "we were never the same Toby's Estate as the Australian Toby's (this confusion is probably at least partly the reason behind the rebrand as Partners Coffee Roasters).  Our roast profiles are very different.  We have a few blends and they all correspond to the palates of the different neighborhoods that we have cafes in.  Flat Iron roast is quite dark, Bedford quite sweet and chocolatey.  Plus we have a large seasonal rotation of Single Origin coffees.*"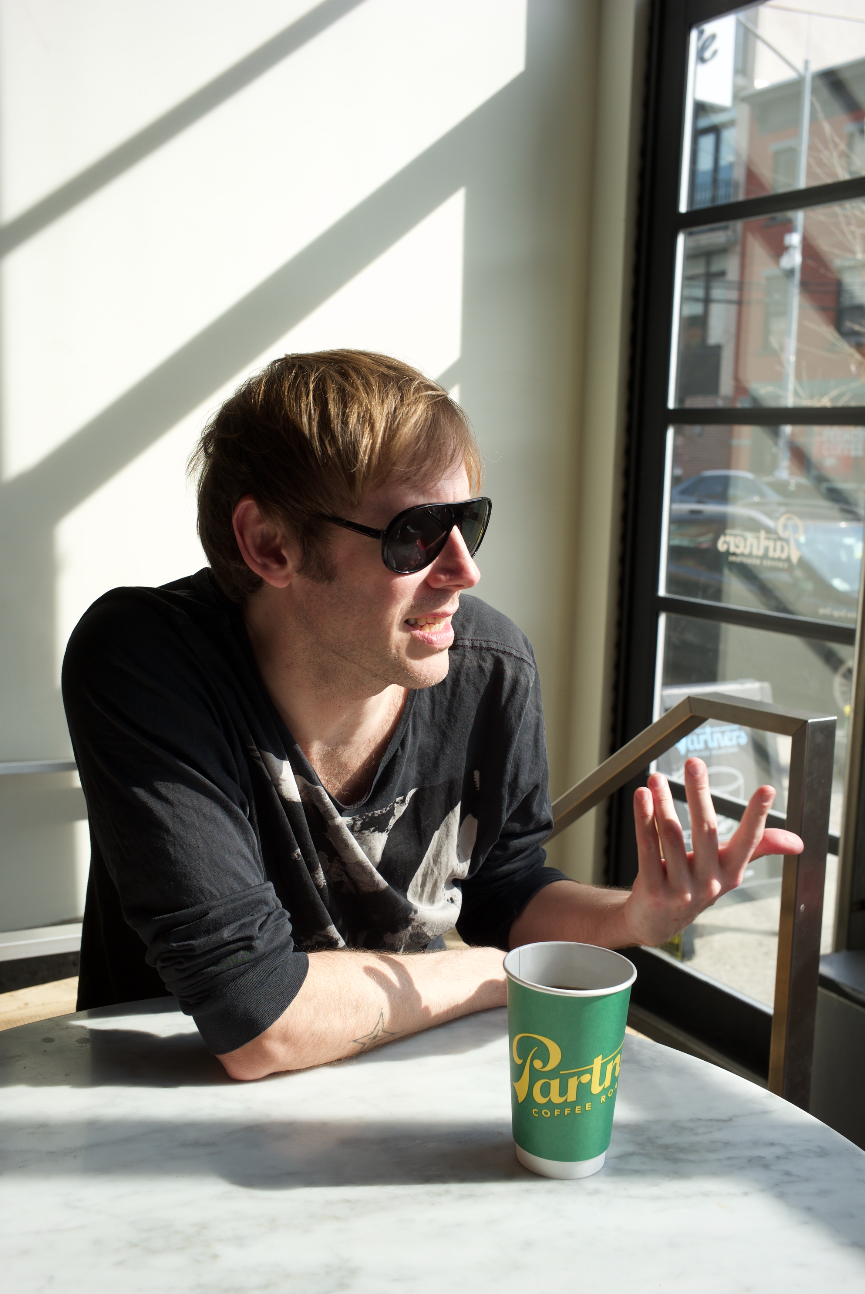 My ears perked up at this news: I was afraid that I was being boxed-in for a puff piece about an independent coffee roaster that stopped at espresso drinks and crowd-pleasing blends.  But a well-developed seasonal Single Origin coffee program?  This was starting to look like my kind of shit.  Since Allie was the Director of Education, I asked her about her favorite prep methods for the different coffees.  In response, she gave me two little zines about the different prep styles for drip/filter/press and espresso.  The recipes are detailed and precise with beautiful illustrations (I later found out that these were done by my buddy Justin Buschardt).
Allie gave me a Honduran, called La Cueva, a Costa Rican, from Santa Teresa, a Colombian from Los Primas and an Ethiopian, from Worka Sakaro.  Then she paused and added a bag of their seasonal espresso, Elevate and a bag of the Brooklyn Blend.  She thought it would be good for me to see why so many people love those, too.  Now, though the bags have become brightly colored, eye-catching gems emblazoned with 'PARTNERS', the coffee blends remain the same: same names, same profiles.  Most importantly, in my mind, the Single Origin program has stayed on track(I'm drinking a beautifully roasted Partners Burundi coffee even as I type this).
"But a well-developed seasonal Single Origin coffee program?This was starting to look like my kind of shit."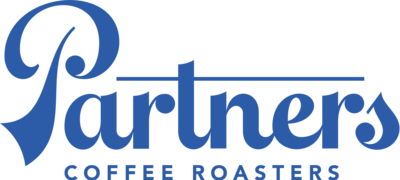 Honduras, La Cueva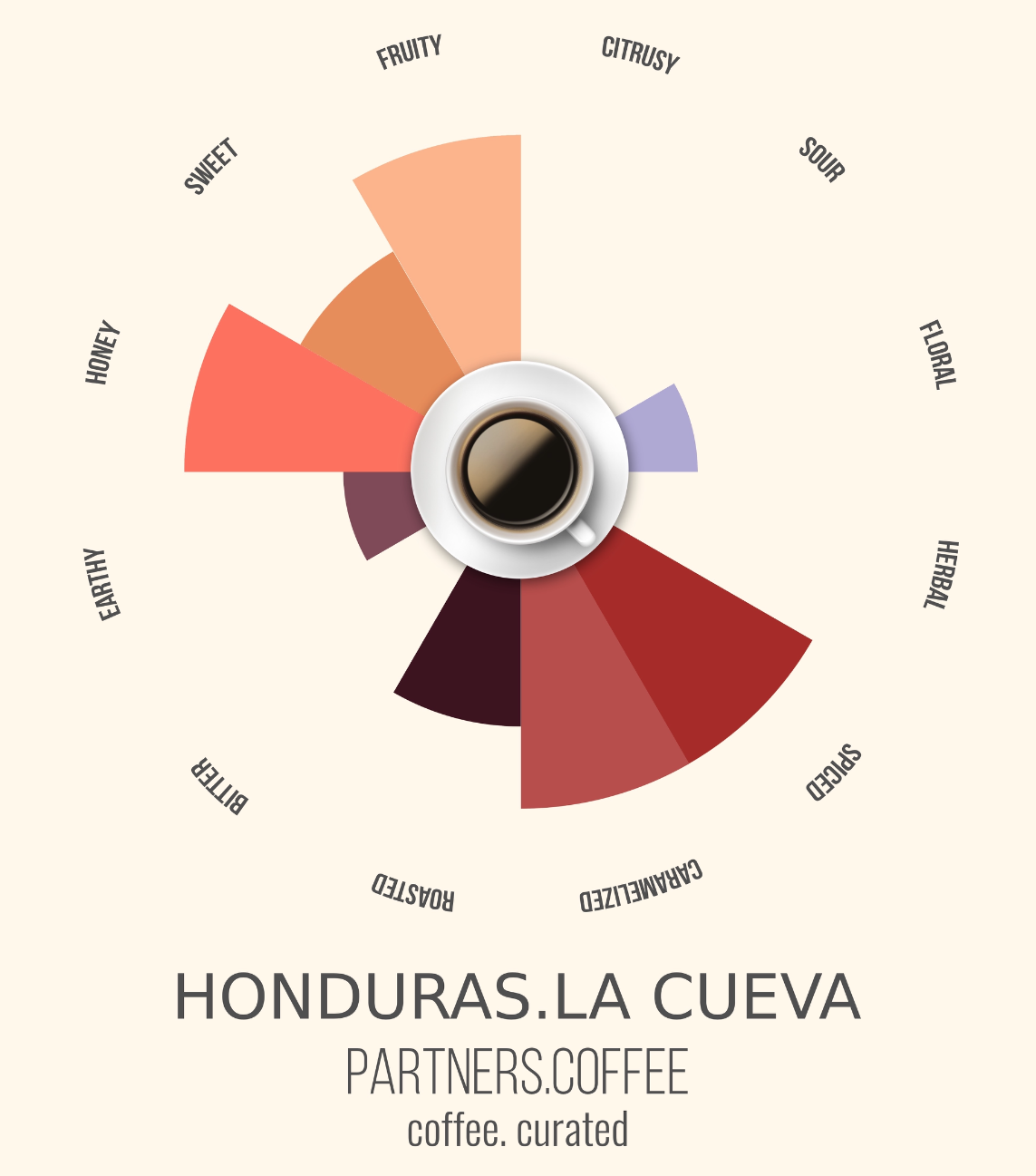 It took me threw brews to get this one dialed in and it was worth it.  I'm not sure I've ever had another single origin coffee like this one.  It leans heavily on the baking spices: cinnamon, clove, coriander and chai spice, while also making room for a vibrant fruity note to push up through the center and live in the top notes: the label says Baked Apple and Starfruit, which has a pear-like quality and is best enjoyed stewed in cinnamon and clove, so this baking spices//starfruit//baked apple is a very satisfying combination, both warming and bright.  I've had blends in the past that have given off a nutty, spiced pear flavor but without the clarity and focus of this absolute Single Origin gem.
Colombia, Los Primas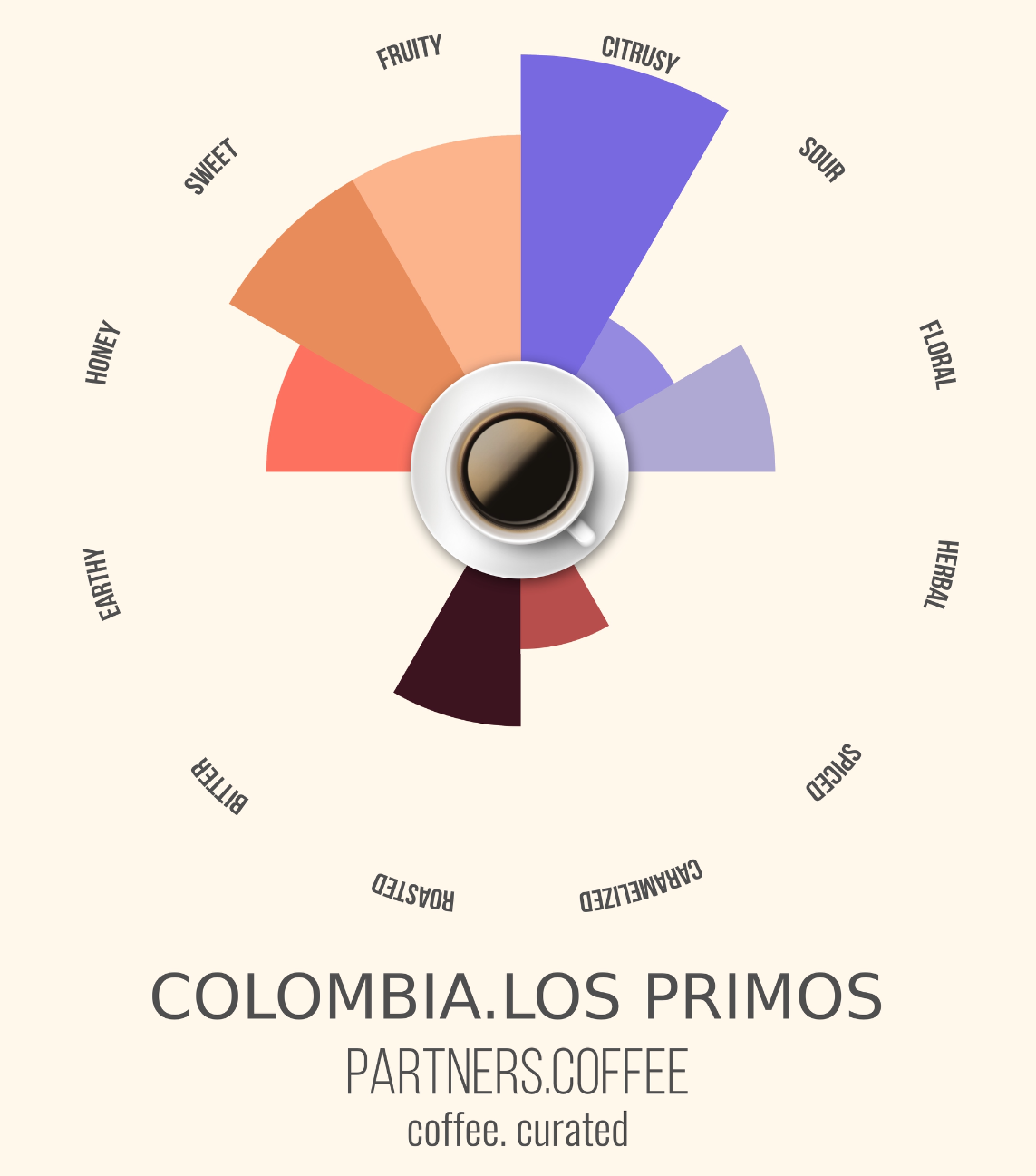 I had just reviewed a Japanese roaster's take on Los Primos as I started preparing this coffee.  The two roasters took completely different approaches to both the roast and the recipe and the flavors that each produced were miles away from each other.  Partners Coffee Roasters' version was primarily occupied with a strong lime flavor, with hints of grape and other sweet berries lingering in the background.  At the bottom, a nutty orange blossom flavor lingered, long after the other flavors had passed.  The Japanese version only gave a delicate orange blossom and hazelnut in a tea-like cup.  Strangely, I think I preferred the Japanese version, although Partners was more unique and engaging.
Costa Rica, Santa Teresa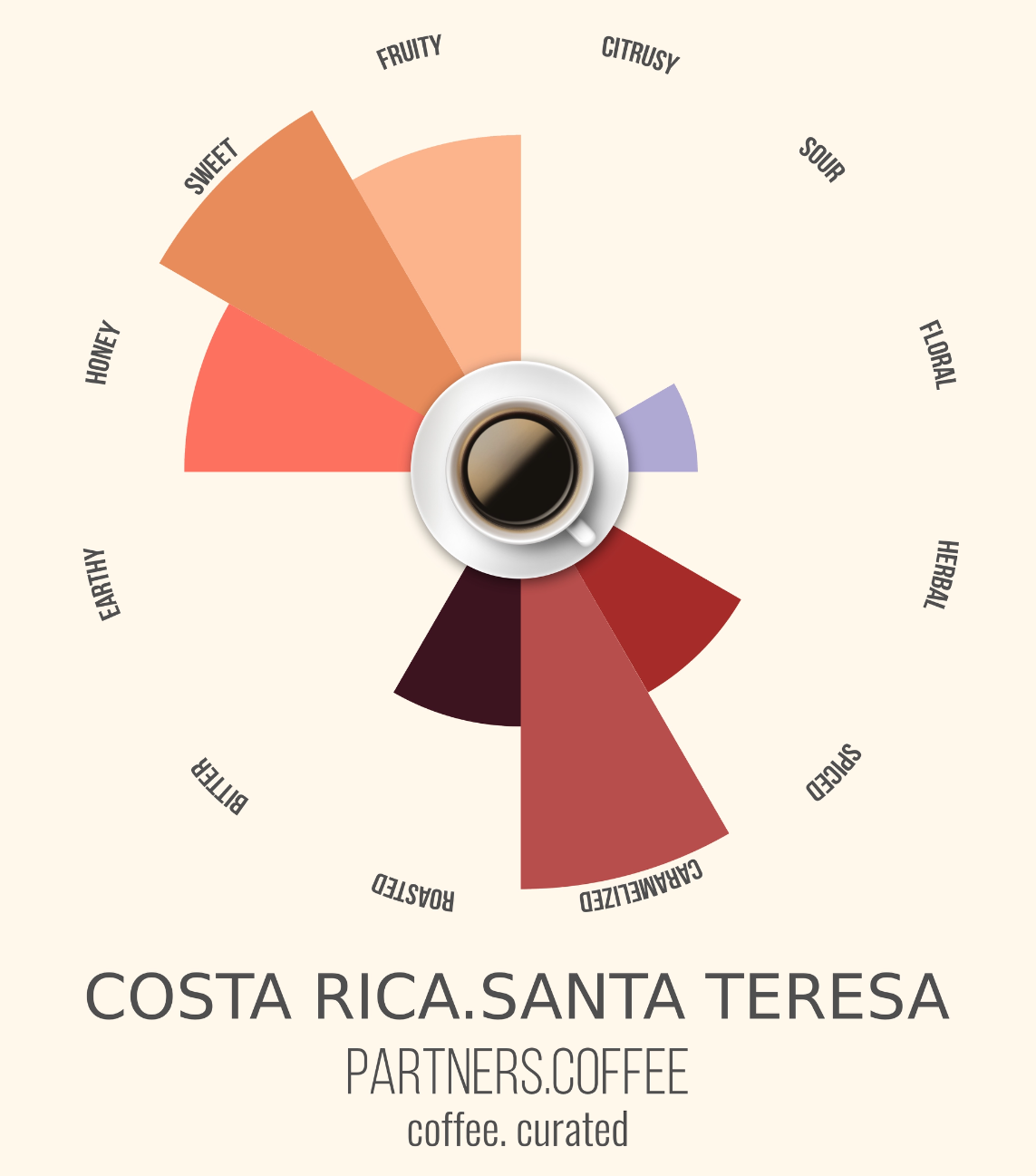 I often find Costa Rican coffee quite boring but not so with this particular coffee.  In keeping with the Honduran, Partners has roasted this coffee in a way that balances the bright, attention-grabbing acidity of the coffee, with the approachable well-balanced base notes of the bean.  The bag lists Caramel Apple, Cherry Soda and Blonde Brownie.  As unlikely a combination as that sounds, it works beautifully.  I would probably twist it slightly and say that the whole range of flavors includes root beer, vanilla, a musky, nutty scent like Tonka Bean and bright cherry and red apple fruits up at the very tip-top of the palate.  The overall flavor of the coffee hews most closely to the blondie description with subtle, nuanced flavors weaving in and out.
Ethiopia, Worka Sakaro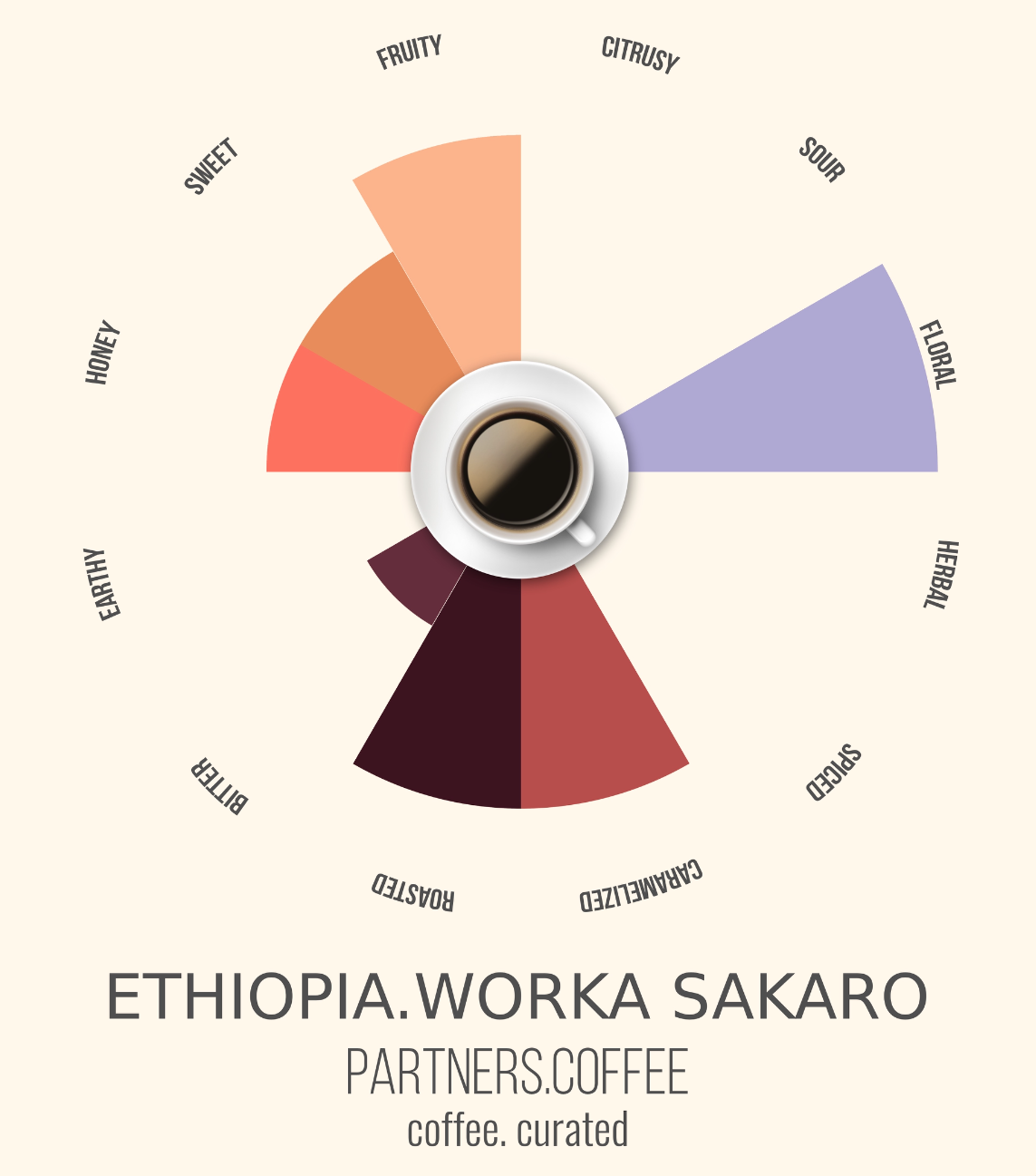 Ethiopian coffees are generally my favorites.  They are consistently great, whether they're the saturated-with-fruit varieties or the beautiful light, tea-soaked ones.  This version of an Ethiopian was a surprise to this coffee lover, as it was a dark roast of a floral Ethiopian.  As a result, there was deep coffee flavor steeped in blackberry and perfumed with Jasmine.  The butterscotch note was quite sweet and added to the mouthfeel, preventing the entire experience from becoming too dark and bitter.  Not what I look for in Ethiopian coffee but all the more welcome for keeping me on my toes.  I'd say Partners Coffee Roasters made this for the coffee aficionado who needs a kick in the pants.
Elevate Espresso Blend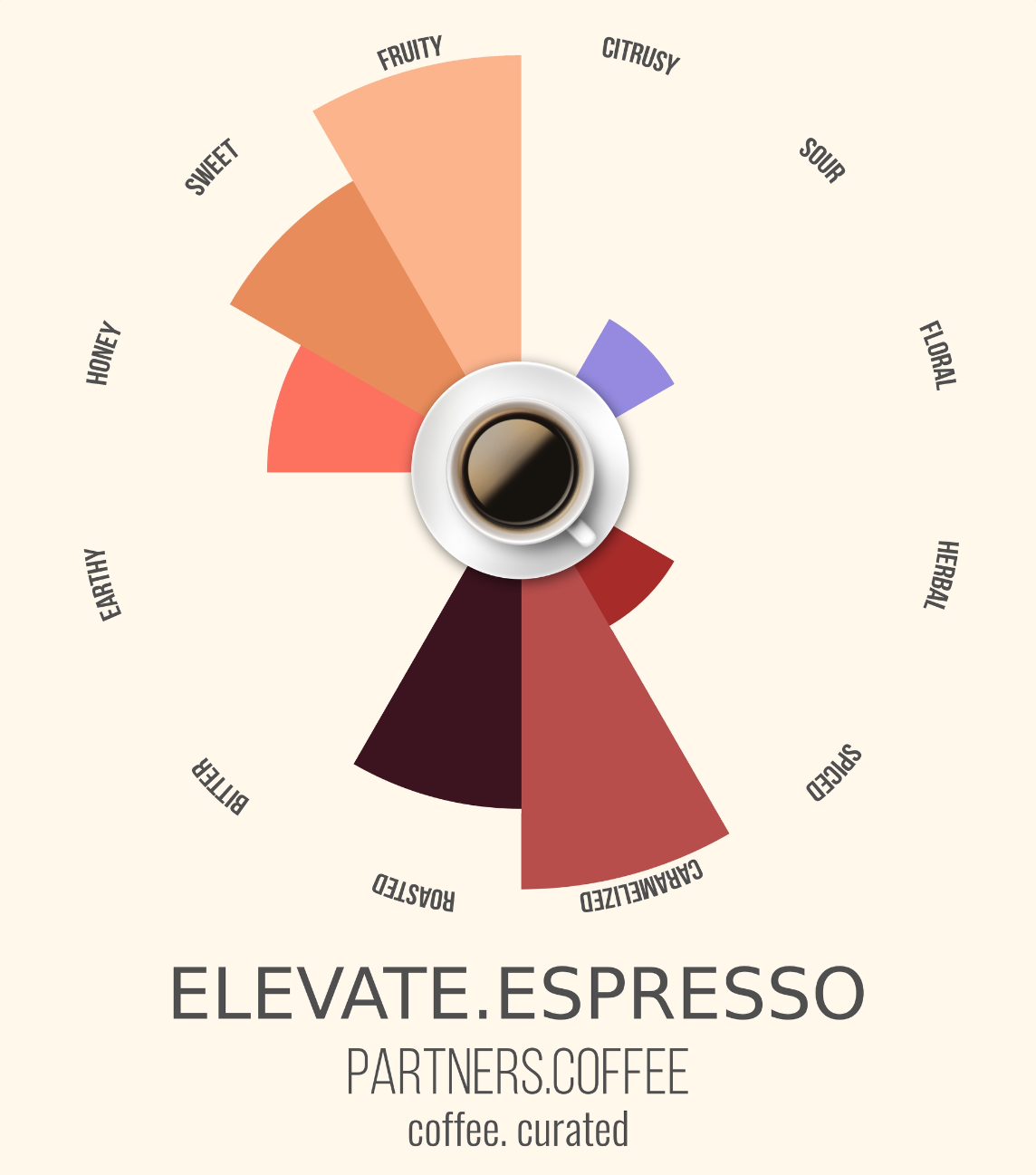 In espresso, I generally look for a sturdy base for milk drinks.  Good flavor, nice layering, but above all: balance.  Elevate changed this for me, as I found the pronounced sweetness of the ristretto shot to be unparalleled in its most simple presentation.  The Red Apple/Pecan Pie flavors were so fully formed that this coffee became my go-to dessert during the three weeks that the bag lasted.  It made for a fine latte but it seemed like a crime to dilute the core flavors with milk or sugar.
Brooklyn Blend, Filter Coffee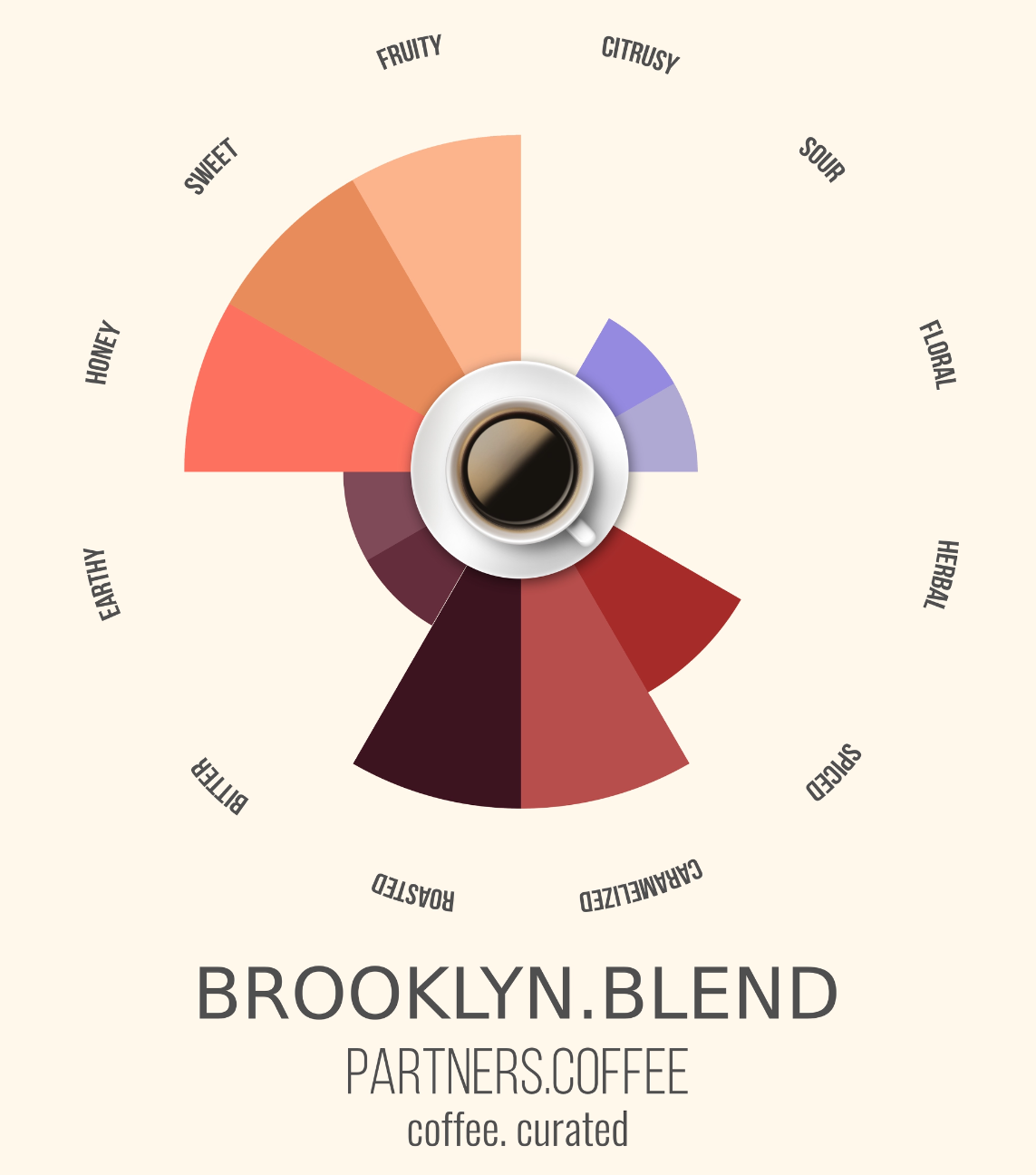 Allie told me that this coffee is one of their best sellers and, for the life of me I couldn't figure out why.  It's a good cup of coffee.  Light, pretty, fruity and chocolatey, with the kind of simple coffee flavor that the average person associates with the start of the day.  But it felt so normal after the other coffees.  Maybe I was expecting Partners to reinvent the wheel after their adventurous Single Origins but they certainly did not.  The blend leans on the slightly darker side but not much past medium.  I was complaining about it one day and gave Liza a sip.  She said, "Oh that's really good."  Because she wasn't overthinking it.  It's just a simple, great cup of coffee and every cafe should have one of those.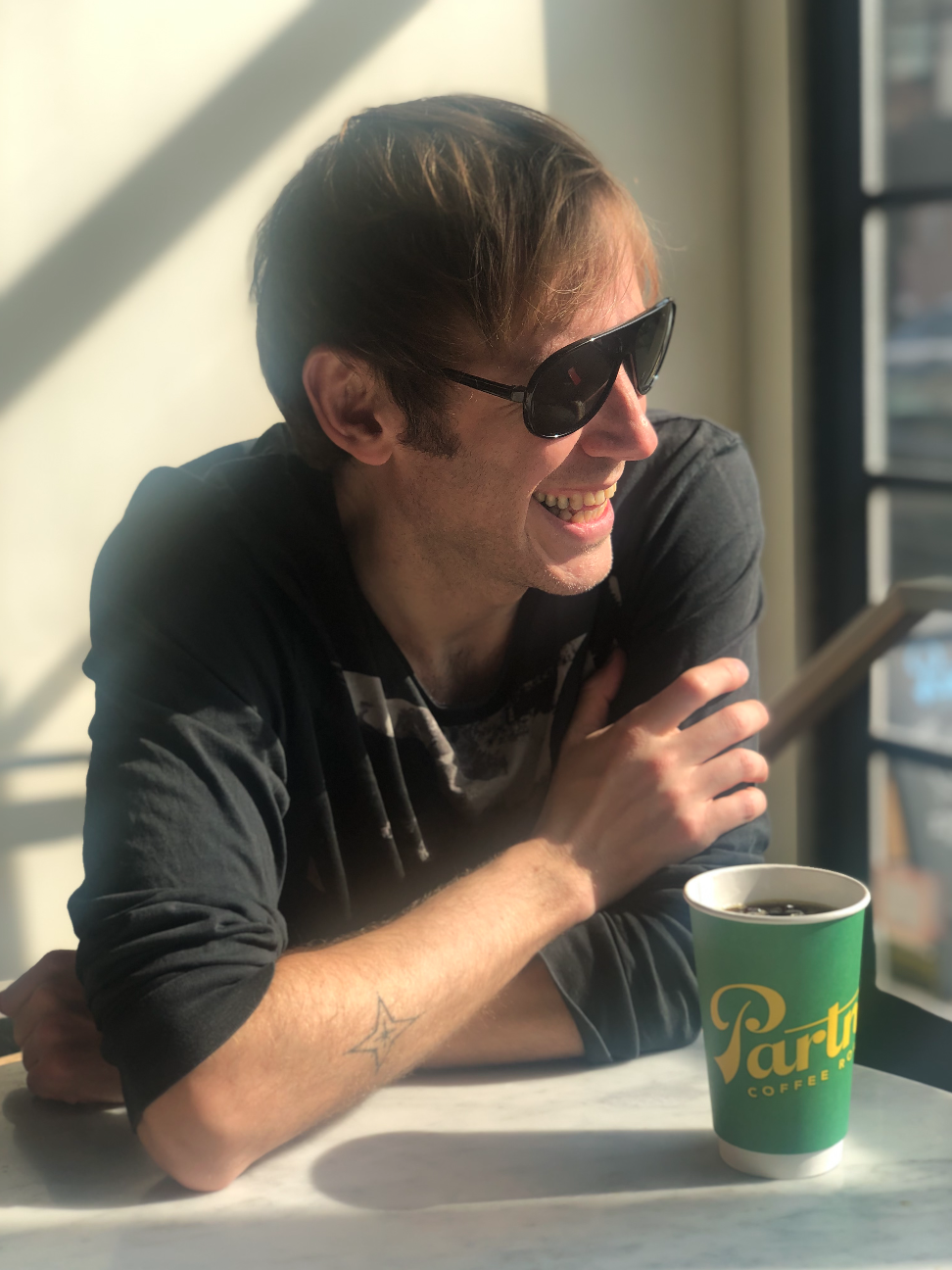 Roaster Roundup: Conclusions
I suppose I'd be rooting for Partners Coffee Roasters even if their coffee was a total boring mehhhh.  After all, they're a giant independent who hasn't sold out to the cartoon bunny of corporate death, they employ friends of mine and — I must admit — I like a good flat white, like anyone else.  But Partners wowed me with their roasting, with their dedication to craft and with their desire to reach out and educate people on how to get the most out of their coffee.  I'm glad they're finally ready to step out of Toby's long Australian shadow.
*All quotes are reconstructed from shorthand notes, taken in person at interviews. Some paraphrasing has inevitably occurred.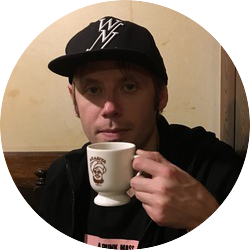 –Geoff Rickly, musician/writer/coffee enthusiast, coffee. curated.
#eatmorestories