"Devoción seeks to elevate Colombian coffee above the other regions by going deeper, searching harder and transporting quicker."- Geoff Rickly
Anyone that's ever been to Devoción Coffee's Williamsburg location knows that Devoción is the most beautiful, transportive cafe in New York.  Locals spend entire rainy days camped out on the leather couches, gazing up into the skylight or surveying the hanging garden on the cafe's back wall.  Artists take note that the branding and graphic design are of a piece: consistent, strong, evocative; a kind of Colombian dialect springing up in the physical language of New York.  The world-building feels endless inside the cafe's walls.
Casual coffee lovers may get hung up on the elegant simplicity of the lattes and cold brews, while the connoisseurs spend time exploring rare seasonal coffees that rotate through the menu, on pour over, at the far side of the bar.  Baristas and coffee roasters alike press their hands and faces up against the glass and peer in at the stately roaster that functions as the metaphorical and geographic heart of Devoción.  Not a single person can believe the green date on the coffee bags piled around the roaster, "That's only four days ago– how'd they get it here?"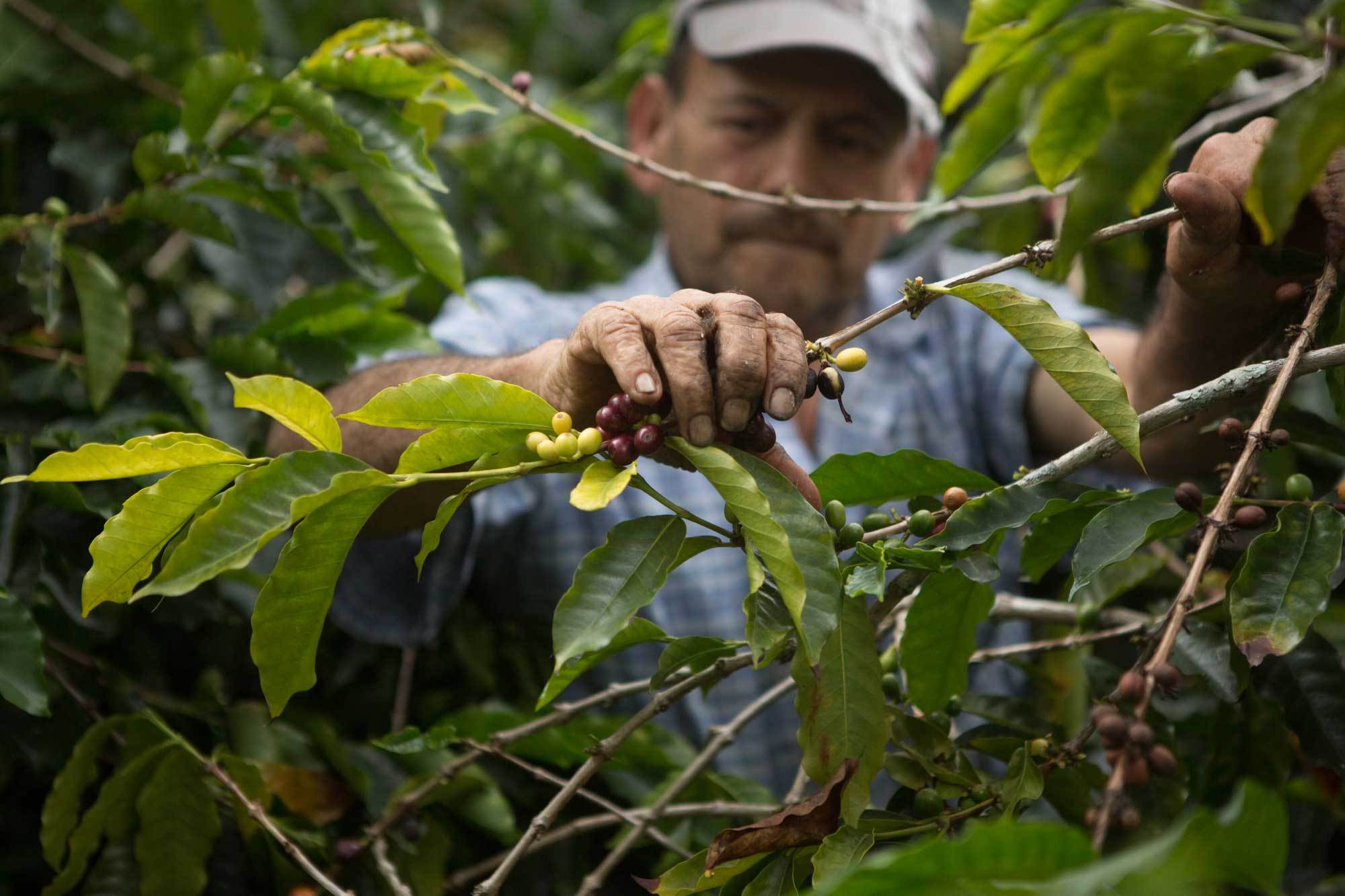 Devoción is something new, something wholly unheard of, even in 3rd Wave Coffee: a Columbian roaster that negotiates directly with Colombian farmers, often while enjoying a cup of the farm's coffee, brewed by the farmer, standing on the land it came from.  Unlike the super light surveys of the great coffee regions that SEY or Small Batch provide, or the dark alchemy that Caffe Vita works on the various coffee crops of the world, Devoción seeks to elevate Colombian coffee above the other regions by going deeper, searching harder and transporting quicker.  From harvest to cup in less than 10 days?  On a different continent?  Devoción is doing it.  In NY.  Right now.
"The brew methods are extremely specific and wildly divergent from current US, Denmark and Australian methods."
Along the way, they're looking to redefine the preparation and enjoyment of coffee in their own — entirely Colombian — image.  The brew methods are extremely specific and wildly divergent from current US, Denmark and Australian methods.  The ratio for their pour overs?  32g of coffee for 260g of water.  That's nearly double the current standard.  Water temp? 200F.  That's three degrees cooler than other methods and each degree matters as much as each click of the burr grinder.
I love Devoción coffee.  I love their baristas.  I love the joy and care of the owners when they speak about Colombia and the strange, rare qualities of its coffees.  But I've wondered if they might be insane, before.  To come into a high-pressure market, like New York, and bring an entirely different ethos and methodology with them could have been suicide.  But, lucky for them, it's paid off.  Not only are they expanding into other locations, they are currently the providers of the most expensive cup of coffee in New York City, since their Wush Wush coffee has been offered at Eleven Madison Park for $34 in a special tableside preparation.  That can only happen when you're doing something right.
All that being said, don't expect to have an easy time brewing Devotión's coffees at home, even when you follow the beautifully designed home brew cards, that they include with every order. The following coffees are profiled in order of difficulty. The first are quite easy to master as espresso or Cold Brew. The final coffees are incredibly technical coffees that require practice to master.
Coffee. Curated. Roaster Roundup: Devoción Coffee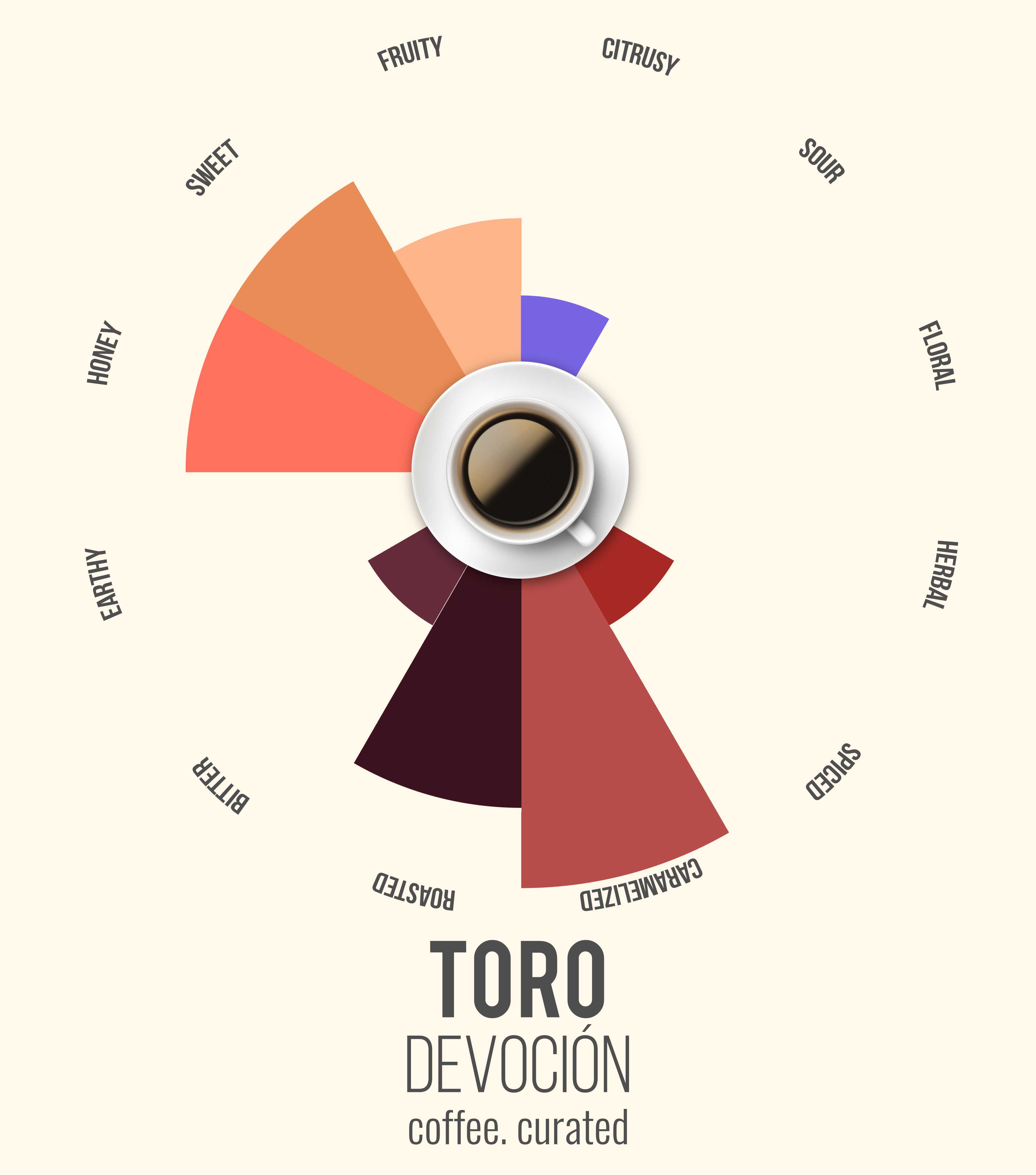 Toro
I'd call this the flagship blend for Devoción.  They use it both for cold brew and espresso.  Chocolate, Cherry, Almond and Vanilla are the listed tasting notes but that doesn't really do the coffee justice because these notes are really a component synthesis of a flavor that has only one note and that one note is an idealized perfect memory of your first great cup of coffee:  round, sweet, crisped and cooked around the edges, the scent of almonds browning in the oven, while you read in the living room, someone's toasting bread, you take a sip of something strong and dark, there was a piece of expensive chocolate melting on your tongue and when you last checked the mirror, was their lipstick on your teeth, because you remember having kissed someone and the memory is all vanilla cokes and cherry lipstick and it trails out behind you into history and later, when memory flattens down into reality, you catch your own eye looking back at you, from where it floats in a small saucer of espresso, framed in crema.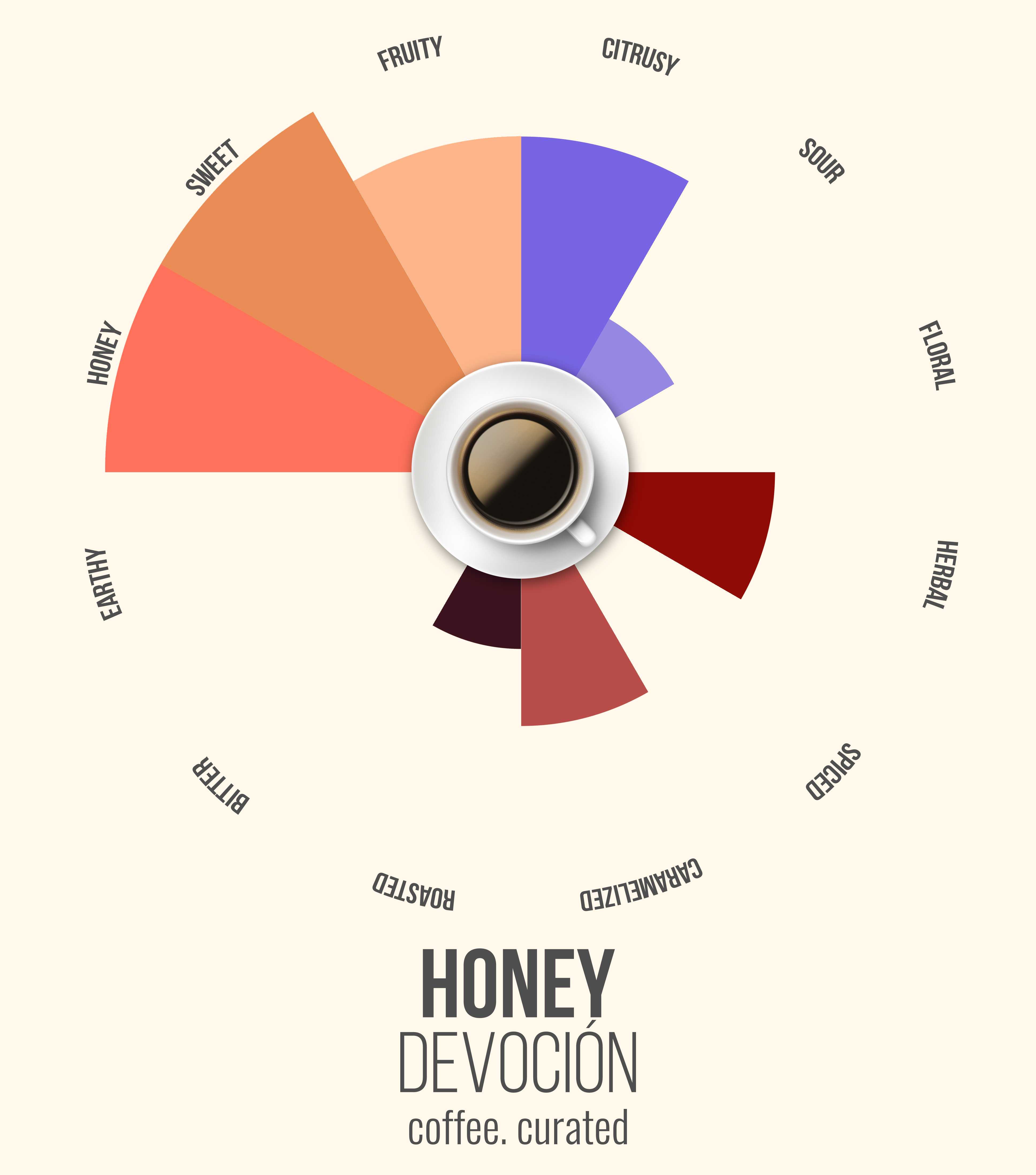 Honey
Another perfect espresso from Devoción, this time composed of high altitude Red and Yellow Borbon varietals, from the state of Huila.  Honey is a bit more acidic and a bit sweeter than the Toro blend and mellows out beautifully in milk.  I like to make lattes with this blend, as well as a long-steeped cold brew to add milk and sugar to… Sugar is great in coffee.  Don't be afraid of it.  5-star chefs use it in their food all the time.  Coffee can be a great sweet treat and the fact that we all pretend that it's only truly good coffee if it's black is insanity.  The honey and the caramel tasting notes balance a sharp citrus, though I've never gotten orange blossom exactly, despite what the label claims.  Don't be put off by the eucalyptus, it has a nice mentholated freshness on the end of the sip.  10 days after the roasting date, the eucalyptus note remains, which reassures me that it's not a fluke of degassing.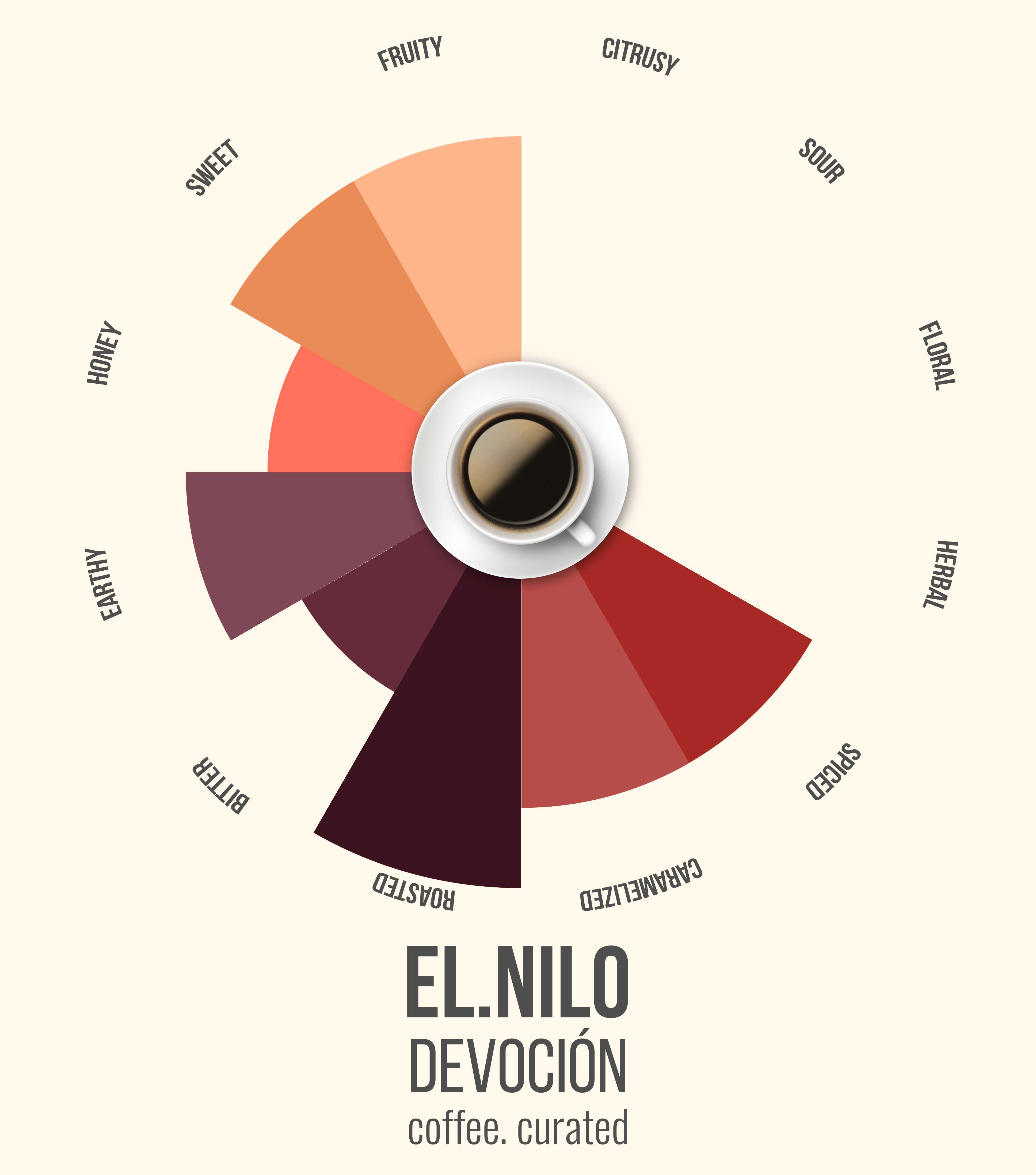 El Nilo
A nice winter coffee for batch brew, drip and french press.  El Nilo is extremely dark and very sweet, without carrying much bitterness.  Earthy and fruity– think figs, dates, dark chocolate, as well as warming baking spices, hints of cardamom, nutmeg, cinnamon.  It's like a nice glass of port or a mug of creamy eggnog.  It's heavy on flavor and quite filling; capable of even overpowering a meal.  Although it's a blend, it's one that the roaster exerts maximum control over since they have now have their own drying table (placed at the proper elevation for a nice, warm climate) and so can make adjustments much before blending and roasting.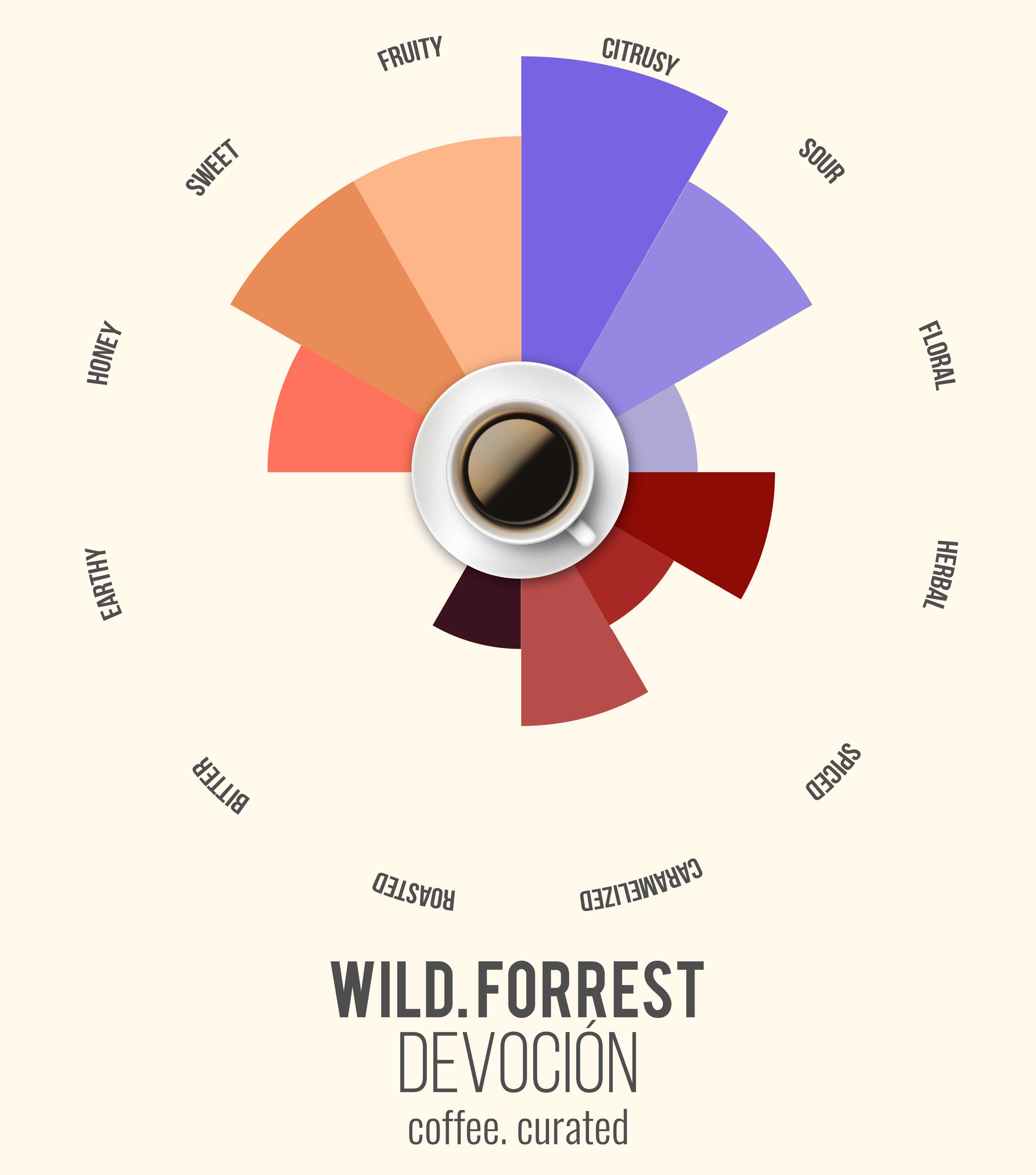 Wild Forest
This coffee reliably produces the kinds of multi-dimensional, high sweetness, sparkling acidity notes that people love in 3rd wave pour-over coffees.  I never screwed it up.  Each grind adjustment showed me something new about the coffee, without ever ruining things.  I like the herbal note that appears on the coarsest setting.  It feels wild and unexpected, like finding pine needles in a rainforest.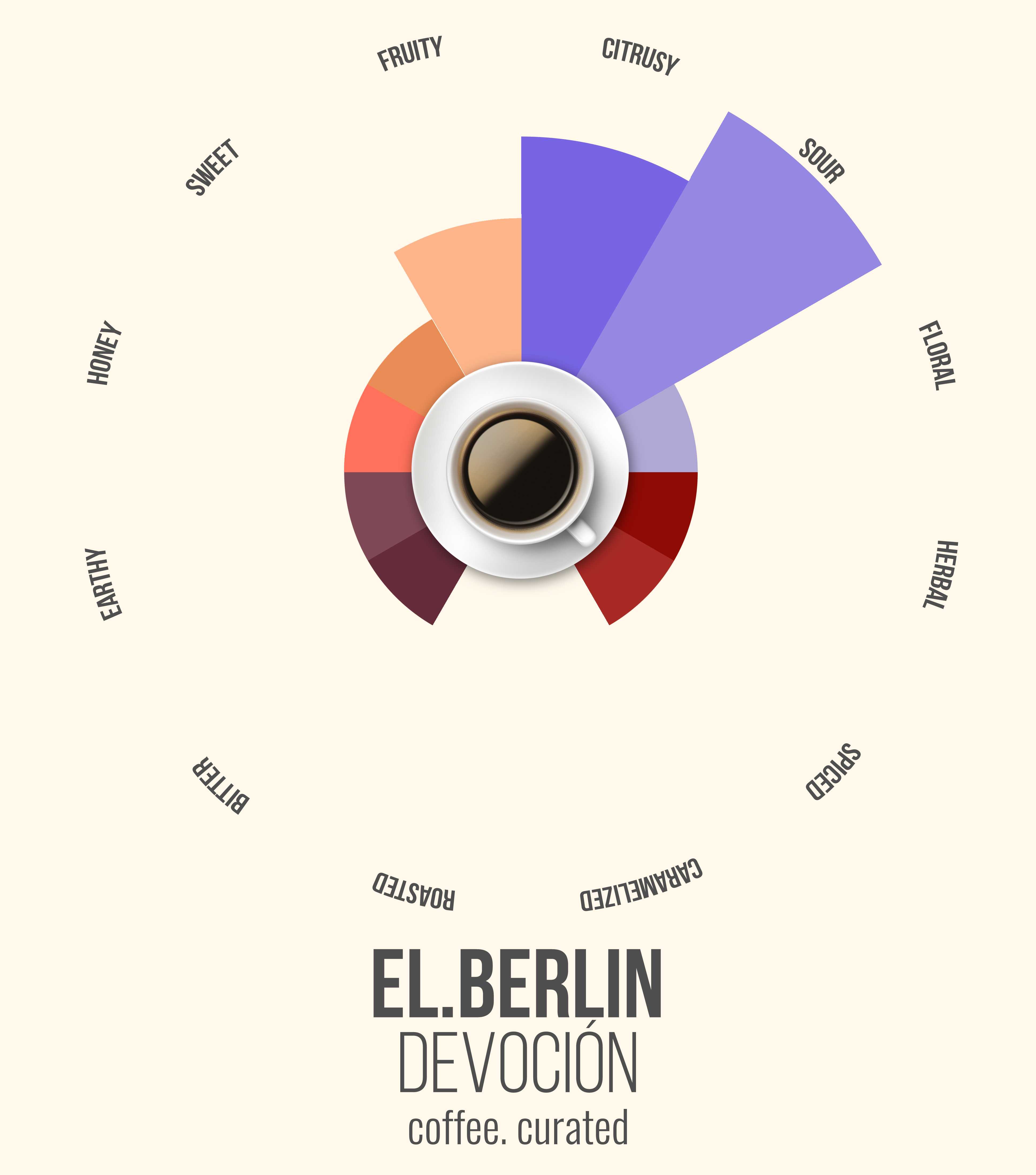 El Berlin
This is the one coffee that left me scratching my head.  Jonathan Dreszer, general manager at Devoción, gave me this bag after I told him what I was into.  And it does seem right up my alley:  Sweet Orange, Rose, Chamomile and Vanilla.  I love delicate floral and tea-like notes, as well as sweetness and well-articulated acidity.  But at the high ratios of coffee to water that Devoción recommends, I kept getting incredibly sour brews, even on fine-grind Aeropress preparations.  I went into the cafe and spoke to a barista who asked me several questions about my methods.  I told her that I was getting beautiful Tomate de Arbol notes from another coffee that Devoción had on at the time but that I couldn't get chamomile or rose out of El Berlin.  She was puzzled, telling me that El Berlin was much easier to get right than the other coffee.  I still don't know if I had gotten something wrong, at an essential stage, or if I got a bad bag.  Coffee can be like that: sometimes you feel like a genius, producing one great cup of coffee to the next, other times you feel like an idiot that can't make one good cup out of an entire bag.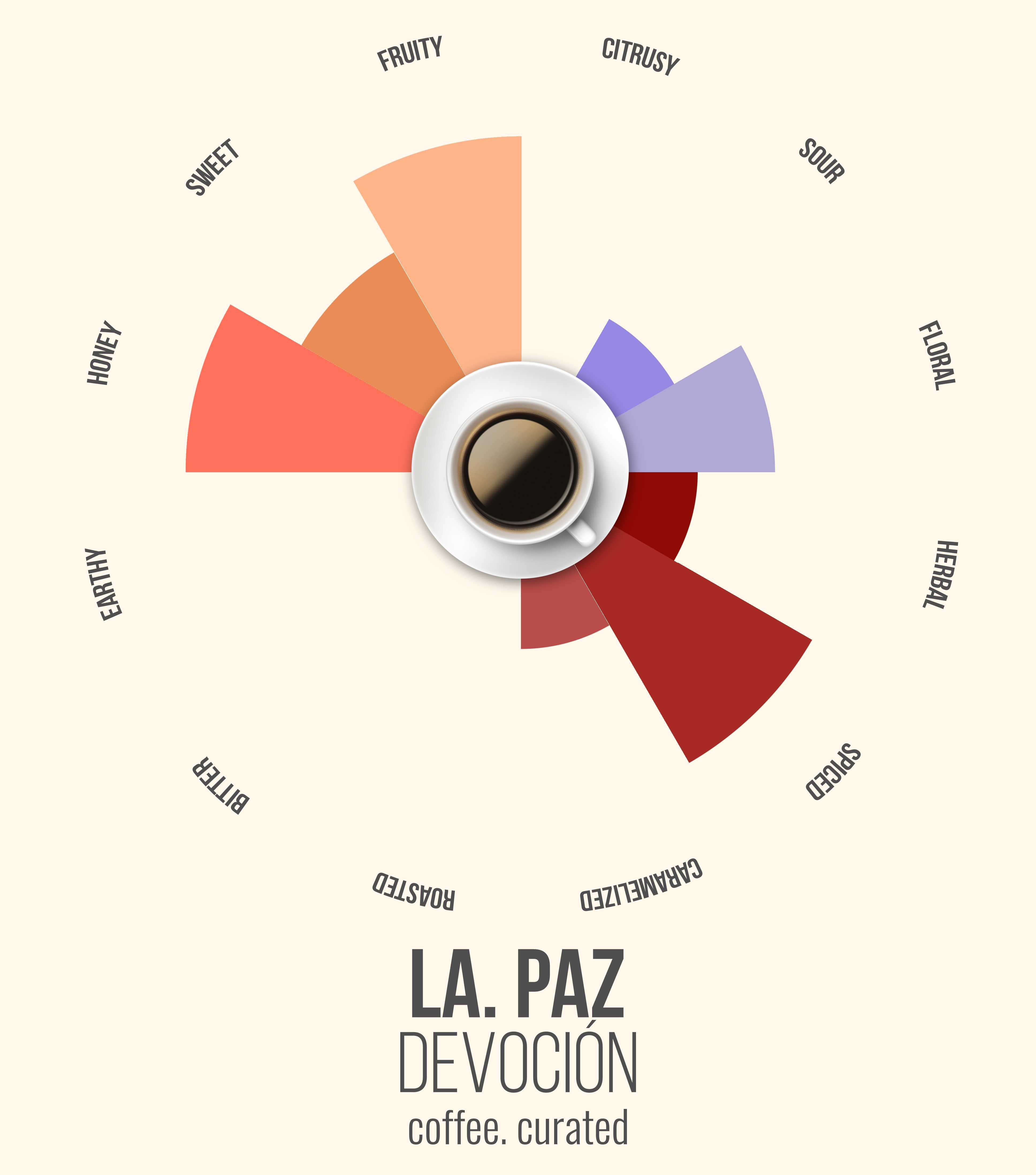 La Paz
Named for the village that it comes from, this Pink Borbon coffee is the work of Farmer Edwin Geraldo, and Mr. Geraldo has managed to produce a coffee unlike anything I've ever tried before.  The notes are listed as Lavender, Cinnamon, White Grape, Vanilla and Peach but I've never been able to get all of those notes in the same cup at the same time.  The cinnamon was a constant between pour over and Aeropress.  The finer grind settings coaxed out lavender and a hint of grape.  Combined with the cinnamon, this gave the coffee a healing, mellow property, almost spa-like.  Higher grind settings pushed the warm baking spices into overdrive with vanilla and peaches.  My very best cup tasted like peach cobbler!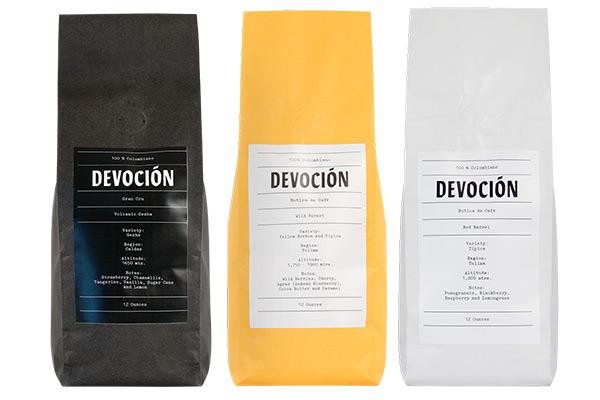 Now we move into the two high-priced geshas I ordered, to try.  (These coffees were the reason that I delayed this profile.)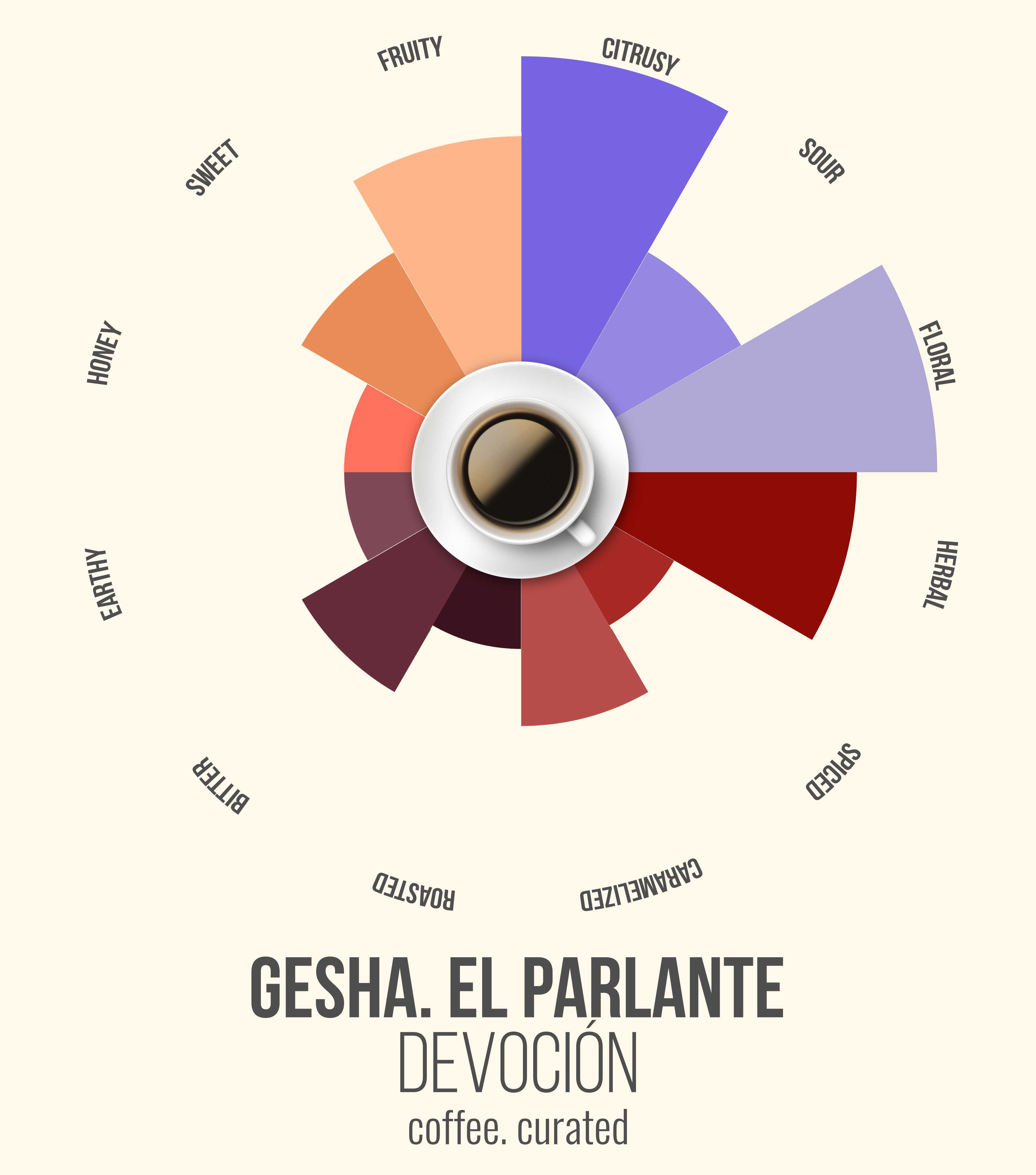 Gesha El Parlante
This extremely high altitude Gesha has a higher and more aggressive acidity than many of the Gesha coffees I've had in the past.  Rather than lemon or orange sweetness (or even the peach flavor of the famous Esmeralda), the top-notes present themselves in the lemongrass spectrum, an interesting, complex mix of herbal, tea-like, fruit, citric and floral flavors; all dancing around in the aroma of the coffee.  The first sip is all dried apricot and expensive marmalade with a light cocoa flavor settling in the middle.  The finish returns in complicated layers of flowers, cut grass and jasmine as the sit on the palate.  My favorite thing about this coffee is perhaps it's most subtle and easy to miss characteristic: the sugar presents as the umami, brown sugar, malty, chalky treat of panela!  I've always loved panela candies.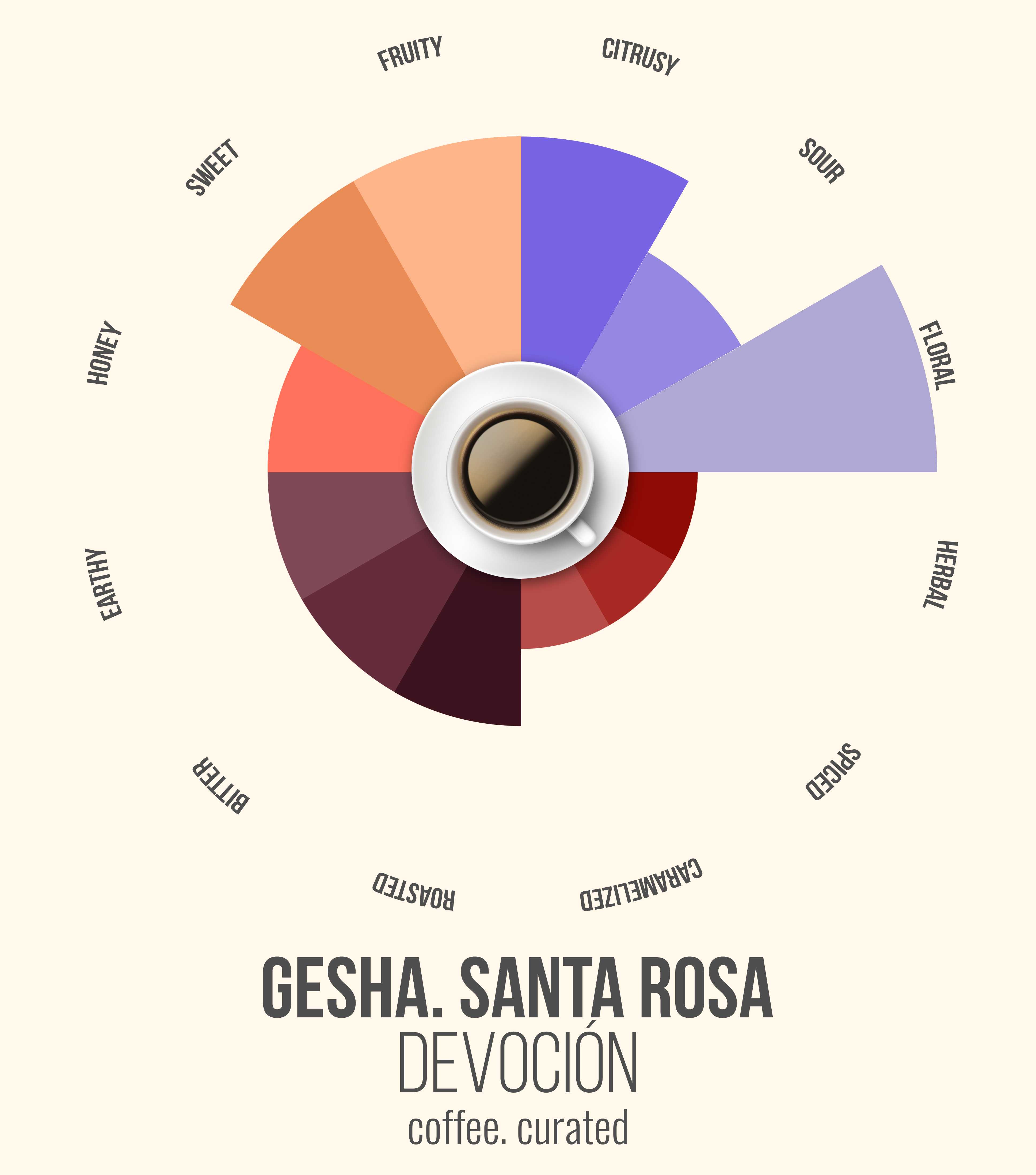 "My very first cup had the overwhelming flavor of an ashtray."
Gesha Santa Rosa
This $56-a-bag coffee baffled me the first two days I prepared it.  Until I realized it hadn't finished settling.  It had the overwhelming flavor of an ashtray.  It wasn't terrible.  But it made me think of the big wet kisses my grandmother's friends used to try and smack onto my cheeks.  Perfume, powder, cigarette smoke, tea.  As Pusha T says, Yuuuugh.  After it mellowed, on day three, the coffee stretched out and revealed lightly cured tobacco flavors, grapefruit, pomelo, orange blossom, rum raisins, honeysuckle, jasmine, black tea… It didn't stop there.  The flavors kept unfolding, like little origami cranes, each fortune different: pecan praline against coconut and ash, with white flowers and lemon verbena and lilies and lemon zest and on and on and…  I even gambled away 55g of coffee on an incomparable cold brew and got it right!  It was my lucky month!
I still haven't been to Eleven Madison Park for a little $34 cup of Wush Wush and judging from my bank balance, I won't be going anytime soon.  But, after diving into Devoción's coffees, I really do want to.  And that really says it all.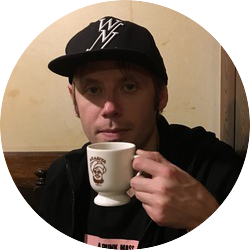 –Geoff Rickly, coffee enthusiast/writer/musician, coffee. curated. | food. curated.