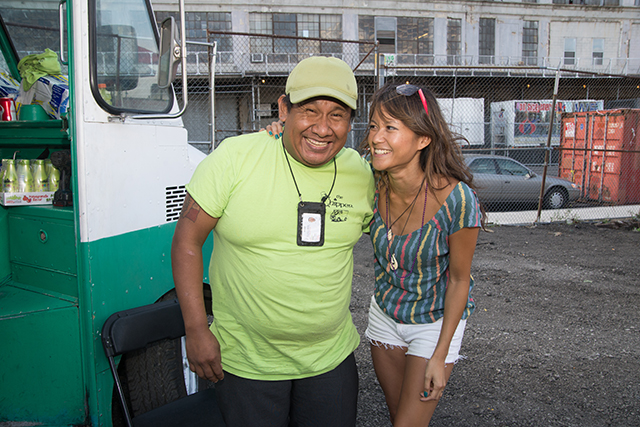 "Since posting your [food. curated.] video, business has doubled. It's great! And all the dishes featured, everyone asks for now." -Valentino
It was a perfect afternoon on Saturday for celebrating the best street food vendors in New York City. And as far as happiness goes, there wasn't a prouder smile than Valentino's. It took The Chipper Truck chef/owner many years of long hours and hard work to finally be recognized as one of the city's top food trucks. He felt so honored to be there, sharing his passion for Irish food – you could see it on his face – and I felt really lucky to see them shine and be discovered too.
Throughout the day long celebration, my maverick photographer, Andrew St. Clair, snapped a few pictures of me catching up with friends, finalists and last year's winners. A big congrats to El Olomega Food Truck for taking home the Vendy Award Cup for Best Food Truck of 2013. If you haven't tried their secret pork & cheese pupusa recipe, you must head to Red Hook STAT.
Please get out there and support these amazing street food vendors with your fork. The list of all the NYC Vendy nominees and winners are here. Enjoy the pics!
Thanks so much for watching their inspiring stories here on food. curated.! It was a blast to be the Vendy's Official Storyteller for yet another year. Happy Eating!