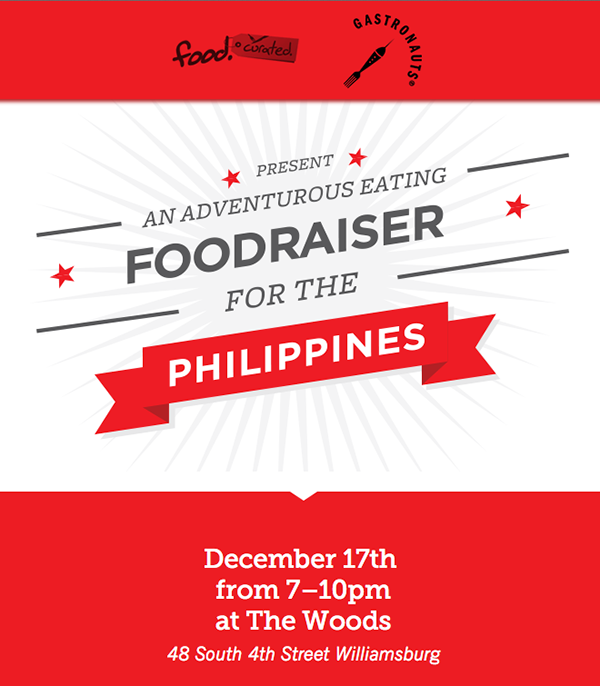 … "Hope is contagious."
This month, it's time to put our money where our mouths are. In the holiday spirit of giving a little something back. Together with the aid of amazing food artisans, The Gastronauts Adventurous Eating Club and I have organized an all-out, blow-out of a foodraiser to help the hundreds of thousands of people affected by the devastating Typhoon Haiyan that pummeled the Philippines last month.
And the entire Filipino food community is coming out to help, feed us amazing things, and show off their wares. There'll be whole-roasted lechons, balut, venison adobo; Landhaus is making pork sisig, goat longaniza, and oxtail tacos; and The Woods is donating a open bar from 7pm to 10pm and making some special drinks. And that's just for starters.
Suffice to say, this is going to be seriously great. We even built a website for the dinner.
We're so excited, and the need in the Philippines is so great, that we've decided to go big on this one. So, for the first time in Gastronaut history, we're opening up the event to the public. This means we need you to:
Seriously, check out the insane food lineup below and try to tell us that you're not salivating. You'll never see all these things in the same place again. And while you gorge yourself and try to empty The Woods' bar, you'll be helping us do something good for someone else.
Oh, and tickets are only $50 — so you won't have to sell a kidney to come eat kidneys at dinner. And it's tax deductible, which basically means Uncle Sam wants you to party.
Below is a list of all the fun partners: