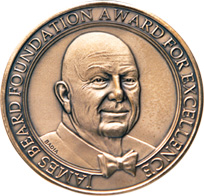 "I owe it all to the food makers…"
This week, I had quite the surprise come my way… food. curated. was nominated for its 2nd James Beard Foundation Award for Best Video Webcast! It's been another fun-filled year of flying solo, telling the stories that I love, and I'm excited to share this honor with other food video greats: Ozersky.TV and GrapeRadio.
Thank you to all the food makers, farmers, fishermen and chefs who let me into their lives in 2010. I am happy to know you, happy to support you, and am mostly happy to have made a new friend. Without your passion, I would have nothing to do with my life, so cheers to you for giving me a purpose.
And another big thanks to those at The James Beard Foundation for believing in my little series. I am all smiles over here and I doubt that will change for some time to come. Like I've said before, my series is more about my love for people, than my love of food. I hope you keep coming back because good people inspire you to eat. Can't wait to celebrate with everyone in May!