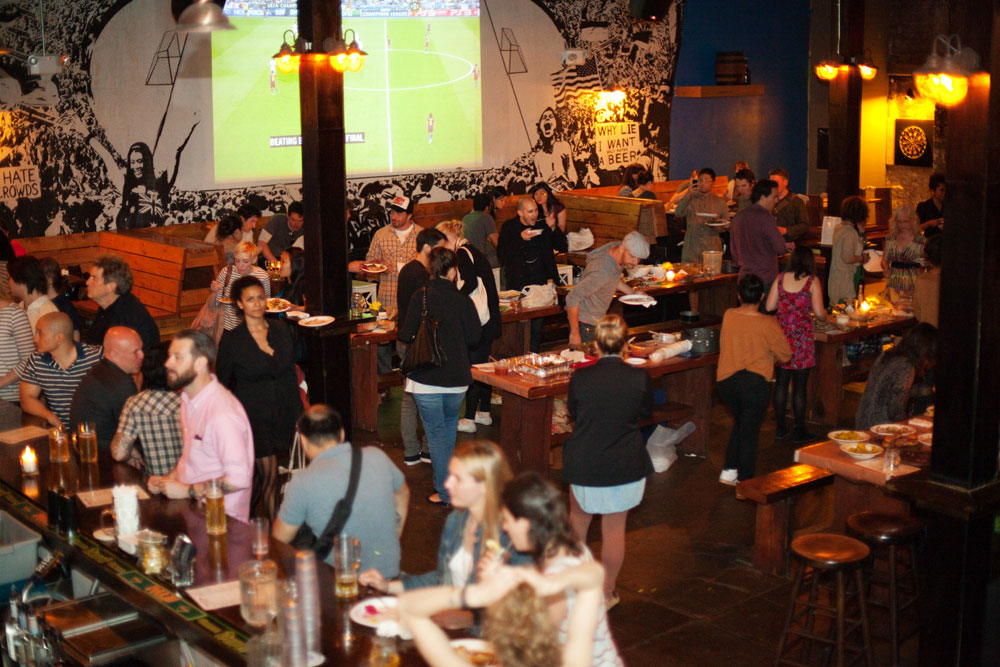 "I feel that it's only appropriate that I launch into the Dirty Dancing theme song right about now…"
Did I say that? No. But I'm thinking it! Thank you so much to everyone for coming out will bells on this past Wednesday. The Spring Potluck at Berry Park was even better and even bigger than expected! We ate. We drank. We got our minds boggled by magic . We toasted to another exciting James Beard Foundation nomination. And, most importantly, we made new connections and new friends. That's truly food. curated. at its very heart, a place to find passionate food people so you can be inspired to eat. And eat we did…
Below, please find the list of mostly homemade dishes featured at the spring potluck. All night, people kept pulling me aside asking me if I tried this, or if I tried that, or who made this or who made that. So, here you go: a list of everything you need to know. I tried to link to everyone's Twitter page so you could follow each other, exchange recipes and start hanging out without me (of course, with me is always preferred. haha.). Enjoy! And please keep your fingers crossed for the James Beard Foundation Awards next Friday. I'm quite nervous/excited and all those other good feelings in between…
PS – as a BONUS, I've also included everyone's favorite book of ALL time as answer #2 below. A tough question, but I think favorite books can tell you a lot about a person. So, have fun reading into these answers, and just reading more in general. It's one of my favorite things to do… (Feel free to comment in the comments section!)
Your Potluck Dish & Your Favorite Book of ALL Time:
@LiddabitSweets – 1. invisible honeycomb 2. Hitchhiker's Guide to the Galaxy by Douglas Adams & On Food and Cooking by Harold McGee
@Ovenly – 1. black chocolate stout cake w/salted caramel buttercream;
spiced carrrot cake w/candied ginger and pecans w/honey mascarpone frosting;
grapefruit cake w/grapefruit buttercream 2. (no answer)
@MattmRivera – 1. ropa vieja – a caribbean stewed beef 2. The White Album by Joan Didion
@Zeb – 1. turkey chili 2. The Prophet by Kahlil Gibran
@JoinBklyn – 1. delicious cheese & crackers 2. The Phantom Tollbooth by Norton Juster – from when I was a kid… I read it every year or so still.
@Gastropublico – 1. Filipino lumpiang shanghai 2. George Carlin's 'Brain Droppings'. Guarantees a smile every time.
@meredithmo – 1. homemade quince paste (membrillo)/Tumbleweed cheese/olives 2. Black Swan Green by David Mitchell. But if you asked me tomorrow I'd probably have a different answer!
@gardenforktv – 1. local honey from his beehive 2. Arm in Arm by Remy Charlip. It's a children's book that I got as a kid and did not understand at the time, but provided lightbulbs later on.
Chef Noel Cruz – 1. invisible chicken adobo rice croquettes 2. Einstein's Dreams by Alan Lightman. It's kind of how my mind works.
@FoodFilmFest – 1. a smile 2. Tipping Point by Malcolm Gladwell
@Jamersss – 1. a smile 2. The Wind-Up Bird Chronicle by Haruki Murakami
@MsMatchGirl – 1. chocolate cookies with dark chocolate chips and salted almonds 2. A book that I have reread about 8 or 10 times is Candide, by Voltaire. As I've read it through the stages in my life, I've gotten different things from it.
@TheGastronauts – 1. Balthazar's Chicken liver pate with bread and cornichons 2. Moby Dick by Herman Melville or Annie Proux's The Shipping News
@JonnyHeadphones – 1. lard-black pepper sourdough boules w/ a small jar of tomato confit 2. The Wind-up Bird Chronicle by Haruki Murakami
@Jeffallennyc & @Diella Р1. smoked tofu and celery in a homemade Sichuan-style hot oil 2. Lord of the Rings trilogy, On Food and Cooking by Harold McGee & Primate's Memoir by Robert Sapolsky
@Dhgisme Р1. a smile 2. The Little Prince by Antoine de Saint-Exupéry
@Robicellis – 1. homemade cupcake flavors: Pizza Grana, Romeo y Juliette, Caramel Macchiato and Coconut Custard 2. To Kill A Mockingbird by Harper Lee, which is why my son's name is Atticus.
@Ivoryhut – 1. Biko (Filipino sticky rice) w/latik (toasted coconut crumbs) 2. Antoine de St. Exupery's The Little Prince, Gabriel Garcia Marquez's Love in the Time of Cholera and basically most of Pablo Neruda's poetry.
@MarisaPizarro Р1. homemade key lime ice cream 2. 100 Years of Solitude by Gabriel García Márquez
@Dinevore – 1. raw kale salad with pecorino, lemon and chilies, 2. The Overcoat by Nikolai Vasilievich Gogol
@Niche – 1. a smile 2. The Living is Easy by Dorothy West
@BKFarmyards – 1. raw green salad w/kale, spinach, and parsley w/a lemon, honey, peanut butter dressing 2. Stranger in a Strange Land by Heinlein
Phil Karlin, Commercial Fisherman, PE & DD Seafood – 1. Conch & Calamari Salad 2. The Bible, The Ship of Gold in the Deep Blue Sea by Gary Kinder, The Betsey, and The Count Of Monte Cristo by Alexandre Dumas
@SpatulaQueen – 1. Bourbon Caramel Chocolate Cake – Valrhona chocolate cake soaked in homemade bourbon caramel sauce and topped w/bourbon smoked sea salt. 2. Flowers for Algernon by Daniel Keyes
@MamaKitten – 1. a smile 2. Diamond as Big as the Ritz and Other Stories by F.Scott Fitgerald
Beth Kulick & Gireesh Sonnad – 1. chilled gazpacho 2. A few recent favorites include:

The Kiterunner, The Help, Snowflower and the Secret Fan, Three Cups of Tea

@TheShinySquirrel – 1. chocolate chip banana bread 2. Still Life with Woodpecker by Tom Robbins
@ThreeManyCooks – 1. Tabouli, plain and simple 2. I really love Ann Patchett. I've read all her books, particularly loved – The Patron Saint of Liars. So let's go with that.
@JesseGerstein Р1. bbq ribs – pork baby back ribs with a lightly spicy, homemade apricot bbq sauce 2. Cloud Atlas by David Mitchell
@SeriousEats Crew – 1. Cracker Lime Pie. Cracker because it's made with Saltines, and because it's white trashy 2. The soon-to-be-released SE book!
@Ldshockey – 1. spicy caramel popcorn 2. Milan Kundera's Immortality & Ruth Reichl's Tender at the Bone
@WorthKitchen Р1. sage and goat cheese croquetas with green salsa 2. 100 Years of Solitude by Gabriel García Márquez
@BaconMarmalade – 1. chocolate torte w/ sea salt and hazelnut meringue crust 2. Where The Sidewalk Ends by Shel Silverstein ……classic!
@FishGuysNYC – 1. Filipino pork adobo spare ribs w/rice 2. The Things They Carried by Tim O'Brien
@JustCookNYC Р1. Pecan Toffee Bars.  2. Siddartha by Hermann Hesse
@MthriftPerry – 1. That Damn Salad – red Grapes, red Onions, gorgonzola, topped w/raspberry vinaigrette 2. History of Love by Nicole Krauss
@ECava – 1. chickpea feta salad (courtesy of Whole Foods) 2. Lolita by Vladimir Nabokov
@CleanPlatesNYC – 1. kale w/whole garlic cloves (c/o Whole Foods) 2. an empty moleskine
@FreshGingerAle – 1. Northern Chinese eggplant dish 2. War and Peace by Leo Tolstoy, as far as food, I was fascinated by Food in Chinese Culture by K.C. Chang.
@SarahMclellanny – 1. Aussie-style roasted chicken curry – dry rubbed & slow roasted chicken thighs w. vegetable and coconut curry. 2. Maos Last Dancer by Cunxin Li
@raganella7 – 1. gluten-free dark chocolate-peanut butter brownies 2. East of Eden by John Steinbeck is one that always stands out in my mind. Of course I love my nerdy Field Guides & foraging & herb books, too. And anything from Vonnegut.
@Lrose21 – 1. beet mashed potatoes, they were bright purple! 2. Silent Spring by Rachel Carson
@FoodMayhem – 1. tzatziki w/pita wedges to go with it. 2. When I was a little kid, it was The BFG by Roald Dahl. As an adult, maybe Fast Food Nation by Eric Schlosser.
Sarah Carter & Jude Gorman – 1. pasta salad w/with Israeli couscous, lemon, asparagus, swiss chard, red onion, celery, broccolini, radishes and sugar snap peas 2. Pride and Prejudice by Jane Austen
@DivaThatAteNY – 1. pilaf of toasted Israeli cous-cous, red quinoa, kale, roasted cauliflower, carrots and scallions, topped with proscuitto shards, garlic chips and dukkah. 2. Preserving by Oded Schwartz
Jamie Kim & Moki – 1. Amys bread, sundried tomato tapenade & homemade pickles 2. Letters to a Young Poet by Rainer Maria Rilke
@MollieChen – 1. Brown butter chocolate chip & pecan blondies. Description: buttery and sugary.2. Cloud Atlas by David Mitchell

@SweetLorens

– 1. Sweet Loren's: Double Fudge Brownies, Bold Espresso Chocolate Chip Cookies, and NEW Nutty Peanut Butter Oatmeal Cookies 2. Tender at the Bone by Ruth Reichl

@SlantShackJerky – 1. Rigatoni Pugliese (chickpea puree mixed with tomato sauce and spicy sausage — tossed with broccoli rabe and chickpeas) Adapted from Andrew Carmellini's Urban Italian Cookbook 2. The Old Man and The Sea by Ernest Hemingway & Bel Canto by Ann Patchett
@LucysWhey – 1. Prairie Breeze Cheddar from Milton Creamery & Tarentaise from Spring Brook Farm in Vermont, with crackers and dried fruit! 2. Favorite book of all time – the Bible.
@LedaMeredith – 1. mini quiches made with wild foraged nettles and hen of the woods mushrooms from the awesome haul I collected and dried last fall. 2. My Side of the Mountain by Jean Craighead George
@LaNewYorkina Р1. pumpkin seed brittle (we call them pepitorias) & Mexican chocolate brownies. 2. The Little Prince by Antoine de Saint Exupéry
@Ultrateg – 1. cold chicken salad with cucumber, bean sprouts, peanuts with peanut sauce 2. The Wind-up Bird Chronicle by Haruki Murakami
Ben Schmerler Р1. Petit Sapin cheese 2. Milan Kundera's Life is Elsewhere
@DannyMacaroons – 1. piles of coconut macaroons: salted caramel, chocolate dipped, and german chocolate macaroons. 2. I just read Infinite Jest twice, so I guess that means something. I also love The Twits (Roald Dahl), One, Two, Three…Infinity (George Gamow) and In Search of Schrodinger's Cat (John Gribbin). And then lots of short stories.
@KumquatCupcakes – 1. invisible maple bacon, and lavender blueberry cupcakes 2. A Confederacy of Dunces by John Kennedy Toole
DJ Leeds Р1. I brought my new roommate 2. The Picture Book of Sexual Love  - total classic.
@FoodCulturist – 1. @AdrianaV's Famous Cauliflower w/olive oil, lime juice, paprika, cumin, roasted cauliflower 2. Autobiography of Malcolm X-Alex Haley & Are You there God?, It's Me Margaret by Judy Blume
@ShannonMusty – 1. The Herbed Potato Salad w/Fennel and Tumeric 2. The Consolations of Philosophy by Alain de Botton
@DoriFern – 1. a spunky smile 2. Voltaire's Candide
Kris Wiig (my old landlady. haha.) Р1. grilled hanger with a dijon mustard glaze over arugla with shaved parmigiana, lemon juice and aged balsamic AND red cabbage slaw with cilantro, lime, tomoatoe and red onion and greek yogurt w/sliced avacado and grilled shrimp soaked in tequila, cumin and chilli and fresh garlic. 2. Where the Red Fern Grows by Wilson Rawls & Ishmael by Daniel Quinn
@JennyHighlife – 1. Peking duck 2. The Once and Future King by T. H. White
@Icalaica – 1. ica's hugs 2. Six Memos for the New Millennium by Italo Calvino
@JaneLerner – 1. apple-rosemary rum-currant tea cake, which wasn't as good as I'd hoped it would be but what can you do? 2. Dalva by Jim Harrison
@SkeeterNYC Р1. Chef Martin Picard's (Au Pied de Cochon) recipe for Ratatouille  2. I do have a favorite book of ALL time, but we'll have to have lunch for you to find out. Yeah, I'm tricky like that.
Thanks for supporting my stories about passionate food makers! What I get to do everyday is truly a dream come true… Happy Eating!