"I've always been a person who likes to take the road less traveled." – Ann Yonetani, natto specialist
Meet Ann Yonetani, the founder/owner and microbiologist behind NYrture Food, an artisanal Japanese natto maker located in Brooklyn, NY. If there's one thing that gets Ann excited, it's bacteria. Ask her about it and her face lights up, she adjusts her glasses, her body settles more comfortably in her chair. She could talk for hours about the microbial worlds that symbiotically live inside us and all around us, a passion that both challenges and fascinates her. Not surprisingly, Ann sees herself as an urban microbe farmer more than a natto maker (a distinction I find endlessly charming). By cultivating a healthy environment for growing good bacteria, her non-GMO soybeans actively ferment into the superfood Japanese call: natto. A food jam-packed with nutrients and health/wellness benefits. This is where her evangelism begins.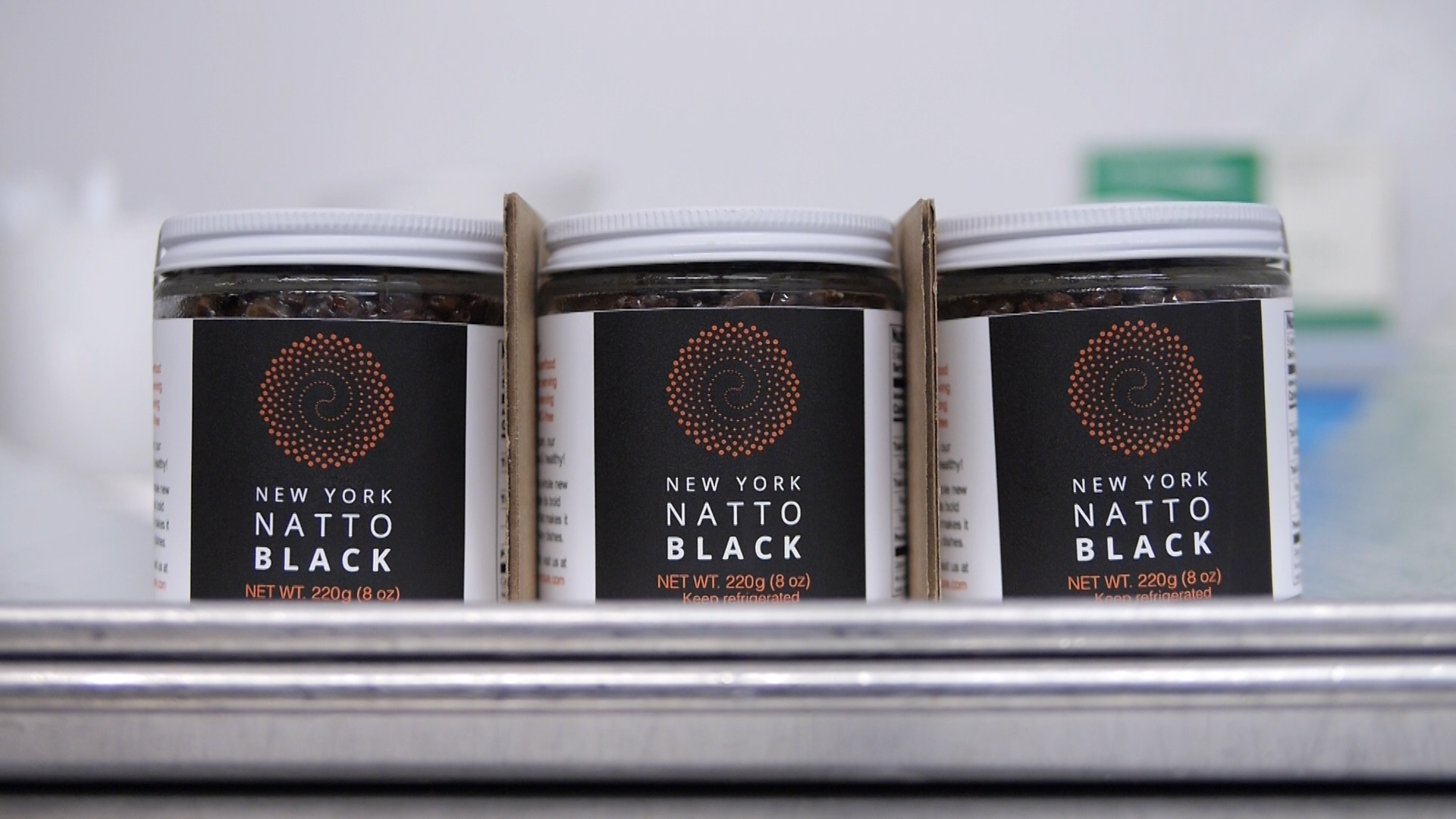 To Ann's knowledge, only 3-4 small companies make natto in America, a very tiny market compared to Japan where natto is ubiquitous. Walk into any supermarket or corner store in Japan, you'll easily find over a dozen options for natto. It's a savory morning ritual there, traditionally eaten over warm rice often mixed with soy sauce or a raw egg and scallions. "A power breakfast food," Ann explains "their version of a protein shake or acai bowl." But unfortunately, in America, natto has little exposure. It hasn't reached the popularity of Japanese ramen or sushi. Ann wants to change that.
She believes more people can benefit from this unique probiotic. She believes natto deserves its own section in our supermarket shelves. So, she decided to make it her mission to craft a path for natto in America. To do it herself, starting with her own product. All in all, it took a few years of practicing, experimenting and adjusting conditions of the bacteria to create her ideal recipe: NYrture New York Natto. But there's a catch: natto is a very VERY divisive food.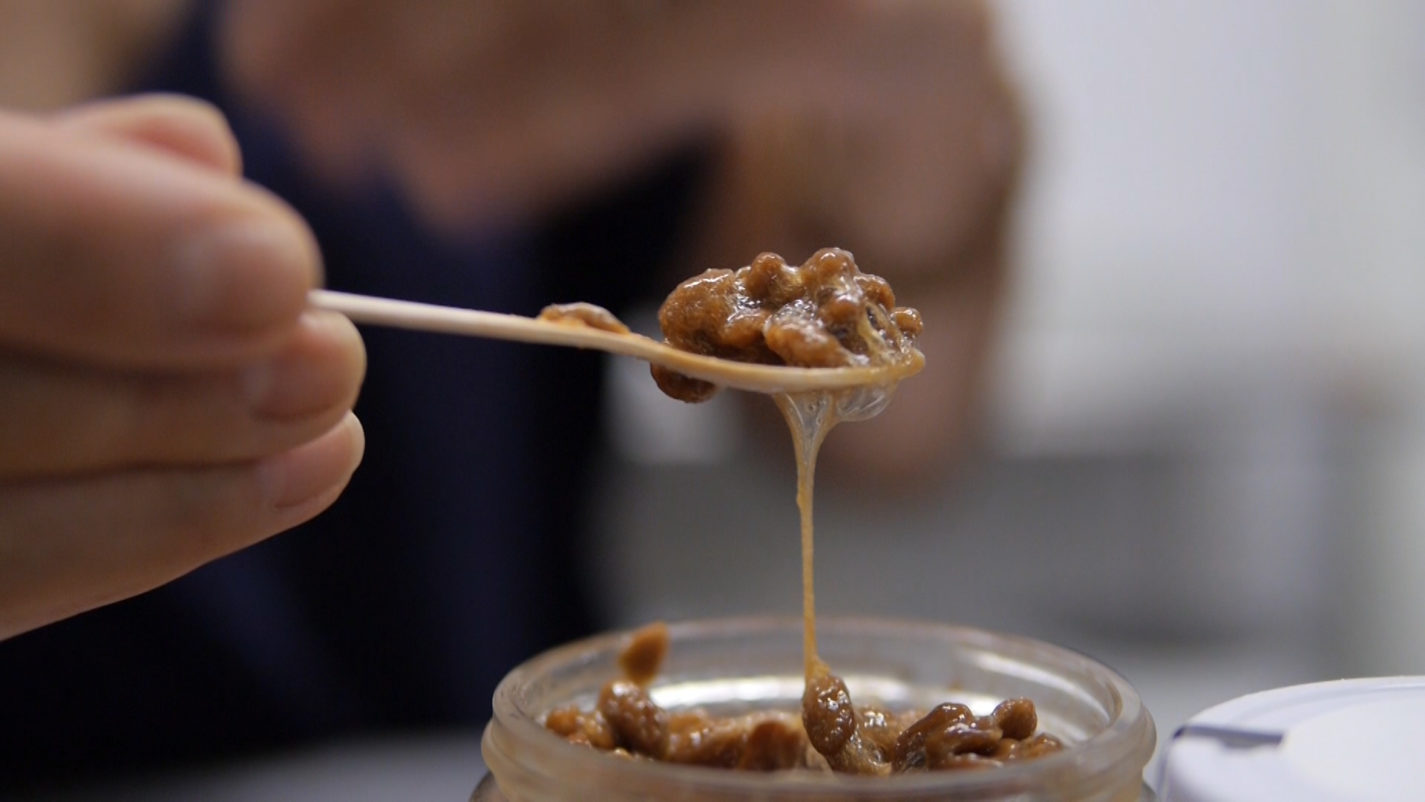 "We have certain challenges other food producers don't have."
On camera, natto looks playful. It stretches, it sticks. "It's got some serious goo!," Ann proclaims. This texture, similar to the sliminess of okra, is what the Japanese call neba-neba. Though common in Asian food culture, neba-neba is a tough sell to most eaters in the West. Add to that a deep, intense fermented flavor and super-stinky smell, and you can see why it's definitely not the easiest product to market. But after learning about the healthy, highly nutritious, probiotic benefits, people are often able to open their minds and bodies to natto for improved heart health, bone health and a more balance gut biome. They learn to enjoy the unique (and uniquely delicious!) characteristics of natto. Maybe you will too. I hope you enjoy Ann's story.
NYrture NY Natto Flavors (available in stores and online): NYrture Original, NYrture Black, NYrture Turmeric, NYrture Organic
Ann's Pro-tips on Eating Natto
Start with an open mind.
Eat at room temperature.
If you are a little worried about the strong taste/texture, start with the NYrture NY Natto Black, which is mildest in flavor.
Don't eat it straight out of the jar.
Try pairing it in untraditional ways: Spoon it over yogurt and honey. Add it to ice cream. Layer it in a sandwich as a strong cheese replacement. Top it on deviled eggs or nachos. Pair it with Indian food. Or with hummus. There are so many creative ways to incorporate it into your diets!
One tablespoon, a few times a week, is all you need to get all the superfood probiotic benefits.
The longer you wait to eat it, the stronger the flavor develops because of the bacteria.
Natto is kid-friendly! Most kids enjoy trying it at her tastings, esp for the slime factor. Just FYI!
Thanks for watching and supporting our food. curated. stories! Look out for one of Ann's many speaking events (like the Berkshire 4th Annual Fermentation Festival) and various NYrture NY Natto dinners coming soon. I can't wait to hear about what you think.
Happy Fermented Soybean Eating!  xxSkeeter
#eatmorestories #foodcurated