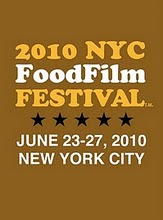 Hello food. curated. fans!
Just wanted to let you know that I'll be doing fewer food stories this month in order to finish 3 short films I'll be premiering at this year's NYC Food Film Festival, June 23-27, 2010. Hope you make it out to support great food filmmakers! In addition to the new films, my Widow's Hole Oyster short was selected to show at The Great NYC Shuck & Suck event on the 23rd. Mike Osinski, the oyster farmer from Greenport, will be at the event showcasing his local oysters for all to slurp down.
Thanks for understanding, and stay tuned for fun blog posts and more information on where to go and what to eat this summer!