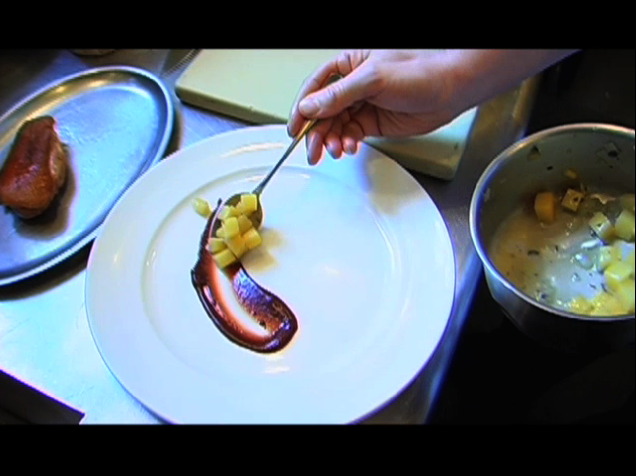 A well brined, well cooked duck breast is great on its own, but a special sauce can really bring things together. To help you impress guests at home, we begged Chef Ryan Tate for the recipe of his latest seasonal concoction at Savoy (as seen in video below):
Chef Ryan Tate's Cherry Chili Puree (to pair w/duck)
2 tablespoons grapeseed oil
1 lemon, zested and juiced
1 jalapeño, seeds and pith removed
1 apple sliced
1 cup dried Michigan tart cherries
1 cup ruby port
2 cups red table wine
Salt and freshly ground pepper, to taste
Heat oil in a sauce pot over low-medium heat and sweat lemon zest, jalapeño and apple slices. Cook until apples are soft, but not caramelized. Add cherries, port wine and red wine. Bring to boil, then reduce to a simmer and cook for 15-20 minutes. Allow the sauce to cool then puree in a blender until smooth. After pureeing, pass through a fine sieve pushing hard to extract all the pectin. Transfer to a bowl and season with salt and pepper, adjusting the acidity with lemon juice. Serve at room temperature.
Happy eating! If you give it a whirl write back and let us know what you think.