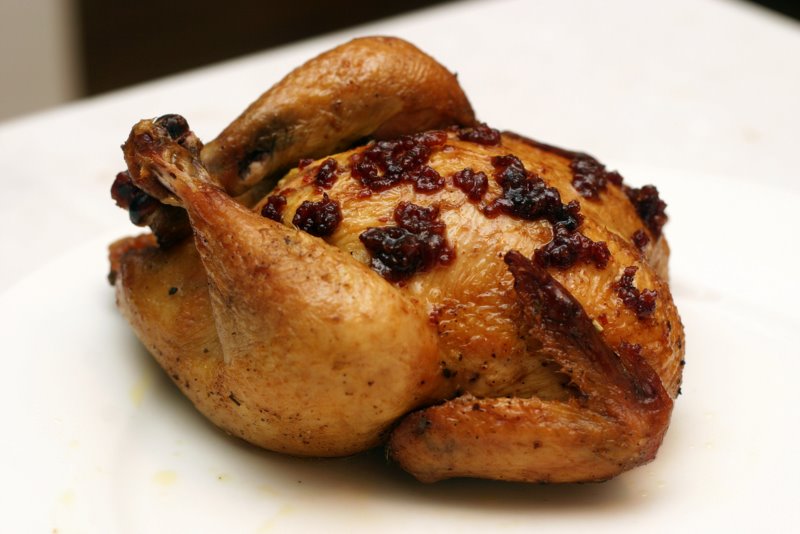 With so many orders of BaconMarmalade flying out the door this past week because of our video, I just thought it might be inspiring for you to hear some BaconMarmalade advice from the inventor himself. Below, you'll find 3 simple recipes for a day's worth of BaconMarmalade (if your heart can take it, of course!).
———————————————————————————————————–
BREAKFAST: Migas con Green Chilies and BaconMarmalade
–The BaconMarmalade adds a nice smokiness and gentle sweetness to foil the piquant poblano in this classic Tex-Mex dish.
Serves 2
2 tsp BaconMarmalade
1/4 C chopped poblano pepper
1 T minced onion
4 eggs beaten
Small handful of leftover tortilla chips
1/2 C of shredded cheese such as Longhorn Cheddar or Monterrey Jack
1 T  cilantro
Salt and pepper to taste
Chunky salsa
4 small flour tortillas
***
Directions
1. In a bowl, whisk eggs. Add a pinch of salt and pepper.
2. In a large non-stick pan, heat up the BaconMarmalade on medium-high, and add onions and poblano to the pan, cook for a couple of minutes.
3. Add tortilla chips into skillet, and move to the outer rim.
4. Pour egg into center of skillet and let eggs sit for about one minute or until set on the bottom and then gently stir all ingredients together and cook for 2 min.
5. Sprinkle cheese on top of egg mixture and take off heat.
6. Add salt and pepper to taste and top eggs with cilantro.
7. Serve with flour tortillas and top with salsa.
———————————————————————————————————–
LUNCH: Simple Avocado BaconMarmalade BLT
–This is a simple sandwich to win over all the BLT fans out there.¬† BaconMarmalade spreads the bacon evenly over the whole sandwich and adds a nice tang.
Serves 1
1 T BaconMarmalade
1 T mayonnaise
Handful of mesclun greens
Half of a sliced ripe avocado
Two thick slices of ripe beefsteak tomato
Sliced, toasted 7-grain bread
***
Directions
1. Layer all ingredients in a beautiful sandwich with the BaconMarmalade on on the top slice of bread and Mayo on the bottom!! SIMPLE!!
———————————————————————————————————–
DINNER: Mesquite Smoked Rock Cornish Game Hen Laced with BaconMarmalade
–This meal is perfect for a Sunday afternoon after a nice day of lazily sitting around the house sipping lemonade.¬† The BaconMarmalade under the skin infuses the small birds with a subtle sweetness while the hens smoke.¬† I use a Brinkmann electric smoker so I don't have to worry about keeping the coals going for 2-3 hours.¬† It is a perfect buy for any grill master!¬† Get your
Electric Smoker
here!!
Serves 2
2 small Rock Cornish Game Hens, rinsed and patted dry
1 T sea salt
1 T BaconMarmalade
1 C mesquite wood chips
***
Directions
1. Insert your finger under the skin on each of the breasts to loosen it from the flesh of each bird.
2. Take tiny spoonfuls of BaconMarmalade and stuff it under the skin you have loosened.
3. Dust the birds all over, generously with sea salt. Let sit for 1 hour
3. Start your smoker of choice and smoke birds at 225 degrees for 2-3 hours using the Mesquite wood chips for smoke.
4 Birds are done when an instant read thermometer inserted into the thigh reads 175 degrees.  Don't overcook!!  I love my 
Instant Read
thermometer, and so should you, SO handy!!
5. Tent the birds with aluminum foil while you prepare side dishes for your masterfully smoked game hens.  I recommend the first of the year's asparagus gently steamed with butter and salt, and some creamy red bliss mashed potatoes.  Garnish the hens with a little more BaconMarmalade spread over the nicely browned breasts. And don't forget to save the juices from the smoking bird to drizzle on those mashed potatoes.  YUM!!
———————————————————————————————————–
YUM indeed! Let us know if any of you test these recipes. And don't forget, Chef Ross Hutchison & Joanna will be competing at The Brooklyn Brunch Experiments this weekend at The Bell House. And, yes, BaconMarmalade will be their secret ingredient…