"I thought it would be all the kids that would be loving it, but it was the adults! It was the adults who kept coming."
Meet Melissa Yen, who just so happens to answer to the name: Jo Snow. Melissa is the founder and senior syrup slinger behind Jo Snow Syrups, a small-batch, artisan syrup company based in Chicago, IL.
Melissa is a self-proclaimed serial entrepreneur. All her life she's started and stopped businesses with none ever really clicking until now. For her, Jo Snow Syrups is the first business she's ever technically mastered. She makes syrups for a living. That's her job – boiling and bottling up to 500 syrup bottles a week. She's good at it. Really good at it – which is great because she's always, always, ALWAYS wanted to own a food brand.
I found Melissa through a little investigating before my Chicago trip a few weeks back. I put out a few feelers to food folks I knew who lived in the area, letting them know I was spending an extra day during my travels to, hopefully, film a story. I got a lot of good responses, lots of interesting artisans were thrown my way. But, time after time, Jo Snow Syrups just kept coming up in conversation. And when a name gets mentioned that much, my general feeling is, the product has to be pretty damn good. So, I took a leap of faith and booked my story, blindly, without ever tasting it.
Well, who exactly knows how serendipity works, but Melissa ended up being that perfect kind of artisan I love to film: passionate, creative, fun, and full of life and energy. An artisan who truly loves what they do. An artisan who makes a product I'm excited to talk about. These syrups are incredible. The flavors are thought-provoking and interesting on the palate. They wake your senses, and make coffees and cocktails and sodas way more fun than you think they would.
So, go ahead, try it. I just dare you to have some fun!!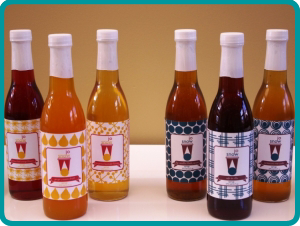 Jo Snow Syrups Current List of Flavors:
Soda Pop Flavors:

Cola #6, Sass! Root Beer, Kickin' Cream Soda

Coffee Flavors:

Cafe de Olla, Fig Vanilla Black Pepper, Cardamom Rose Water (my favorite)

Fruity Flavors:

Hibiscus Basil Orange Blossom, Ginger Passion Fruit, Tangerine Lavender Honey
Thanks so much for watching food. curated. I truly appreciate all the support and notes of encouragement while I took a little time off of storytelling these past few months. But now, I'm back. And I'm ready for a whole new season of storytelling. So stay tuned because I've got so many fun things to show you in 2012… Happy Drinking!