"Good bread should stand alone."
Earlier this summer, craving savory burgers and hot dogs, I wandered into my neighborhood bar TORST for a quick bite in Greenpoint. TORST is a serious place for serious beer drinkers, where one can find unique styles of rare, highly-curated craft beers on tap. I heard they'd been working on a new beer-friendly food menu for a while, so I was intrigued. Especially since, over the winter, they decided to close their in-house Michelin-starred restaurant, Luksus, in favor of a more casual menu and gastropub vibe. Little did I know that the burgers and hot dogs would be the least of my obsessions here.
Meet Max Blachman-Gentile, the head baker (the only baker!) at TORST. If you're the type of person that goes out of their way to hunt down a good sourdough, Max is your person. For me, it takes quite a lot for a bread to get me standing at attention. In fact, I ordered his $10 'House Made Bread' appetizer mostly out of curiosity. If you've got balls enough to charge that much for a bread plate, it better be BETTER than good. Most times, it's just a sneaky way to mark up menu items. So I was skeptical. When the warm bread arrived, I was caught up in conversation, mindlessly buttering a slice almost without thinking. And well, that first bite, it shut me up. My eyes went wide. I spent the rest of the meal in full bread admiration.
To call Max a bread master now, would be a bit premature – but not entirely unreasonable. He'd tell you he's more of a bread enthusiast – I'd call him a young bread genius – the type of baker that spends all his free time nerdily liking and commenting on bread pics on Instagram, much to his girlfriend's chagrin. He grew up eating sourdoughs with his family in San Francisco. Those early years, being spoiled by Chad Robertson's sourdoughs they discovered at the local farmers market – long before Tartine had taken over the bread scene in America. Max had dreams of becoming a lawyer before being bitten by the bread bug, a craft he fell in love with while getting his culinary feet wet as a sous chef in New York City. He obsessed over the tedious process, even into the late hours, after his shifts at Roberta's Bakery. Now, with a baking space all his own, he dreams of clearing the good name of whole grains and freeing gluten from its unjust stigma.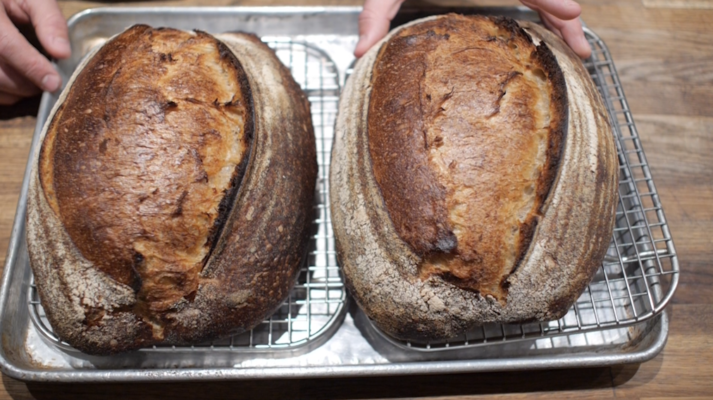 If you'd like to taste his masterful bread creations, for a limited time and in very limited quantities, Max will be offering his nano bread program off-menu. At Torst, his specialty bread usually comes as part of a meal paired with beautiful proteins and homemade ice creams. So, for your gluten pleasure this fall, bread lovers can choose from 4 seasonal options to pick up at the restaurant or in Union Square. Just contact Max directly off this link to reserve one of his featured loaves to take home. If I were you, I'd order one of each.
Thanks for watching our brand new season of food. curated.! Enjoy Max's story and let justice for whole-wheats rise! (heh heh)
#eatmorestories