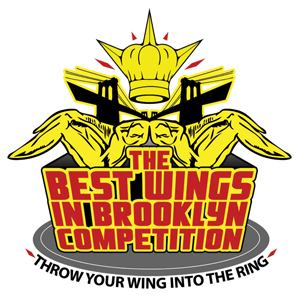 This Saturday, February 25th at 2pm, I'll be judging The Best Wings in Brooklyn Competition at Red Star Bar in Greenpoint along with Jacob Osterhout from the DAILY NEWS, Peter DeNat from YELP BROOKLYN, Sarah Zorn from THE BROOKLYN PAPER and Sharon Beason from BROOKLYN EXPOSED. I've always wanted to judge a food cook-off, and I'm pinching myself that I get to kick off this long-desired dream with plates and plates of finger-licking wings.
I remember the first year I went and it was PACKED with wing lovers. Plus, you'll get to sample secret recipes from 12-16 vendors from across Brooklyn all vying for bragging rights. Even better, the event is FREE – so come early! Hope you can make it!
Red Star Bar: 37 Greenpoint Avenue, on the corner of West Street and Greenpoint Avenue.