"I think it's essential for Progresso to start here. It clearly is showing a willingness to participate in people's lives, long term." -Chef Alex Raij
Meet Alex Raij, the busy mom and Executive Chef/Co-owner of Txikito, La Vara, El Quinto Pino and Tekoa restaurants in New York City. I am a huge fan of Chef Raij. To me, her food, her passion for culture, her business savvy is very much an inspiration. She is someone who cares about feeding you. Someone who is thoughtful about the food we put into our bodies. When I think of all the meals I've eaten seated at her restaurant tables, the one feeling I'm reminded of time and time again is love. There is love in her food.
Although we both grew up in separate towns, in separate parts of the country – me from Sarasota, Florida, she from Minneapolis, Minnesota – Chef Raij and I both share a fondness for soup, and a loyalty to Progresso. Progresso is the brand that lived in our kitchen cabinets growing up. And the brand that lives still in our cabinets today. There's a reason we've stuck with Progresso: they care. They care about quality. They care about bettering their ingredients. They care about making better choices, so that we can have better choices. For ourselves. And for our families.
After an amazing experience last year documenting the entire behind-the-scenes, farm-to-can production process, I chose to partner again with Progresso this year to help announce their new commitment to 100% antibiotic free, hormone free white breast meat chicken in their soups. This is big news. Great soups start with great ingredients. Period. No chef would argue that. And this decision to bump up the quality of the chicken in their soups is just another step in the many steps they've taken to produce a better-for-you option for soup lovers. Some of their latest commitments include:
No artificial flavors in any soup varieties
Reducing sodium levels in over 40 of their soups
Adding gluten free options to the category
Removing artificial colors from over 60% of their soups and getting 100% by 2019
Responding to demand for more vegetarian soup options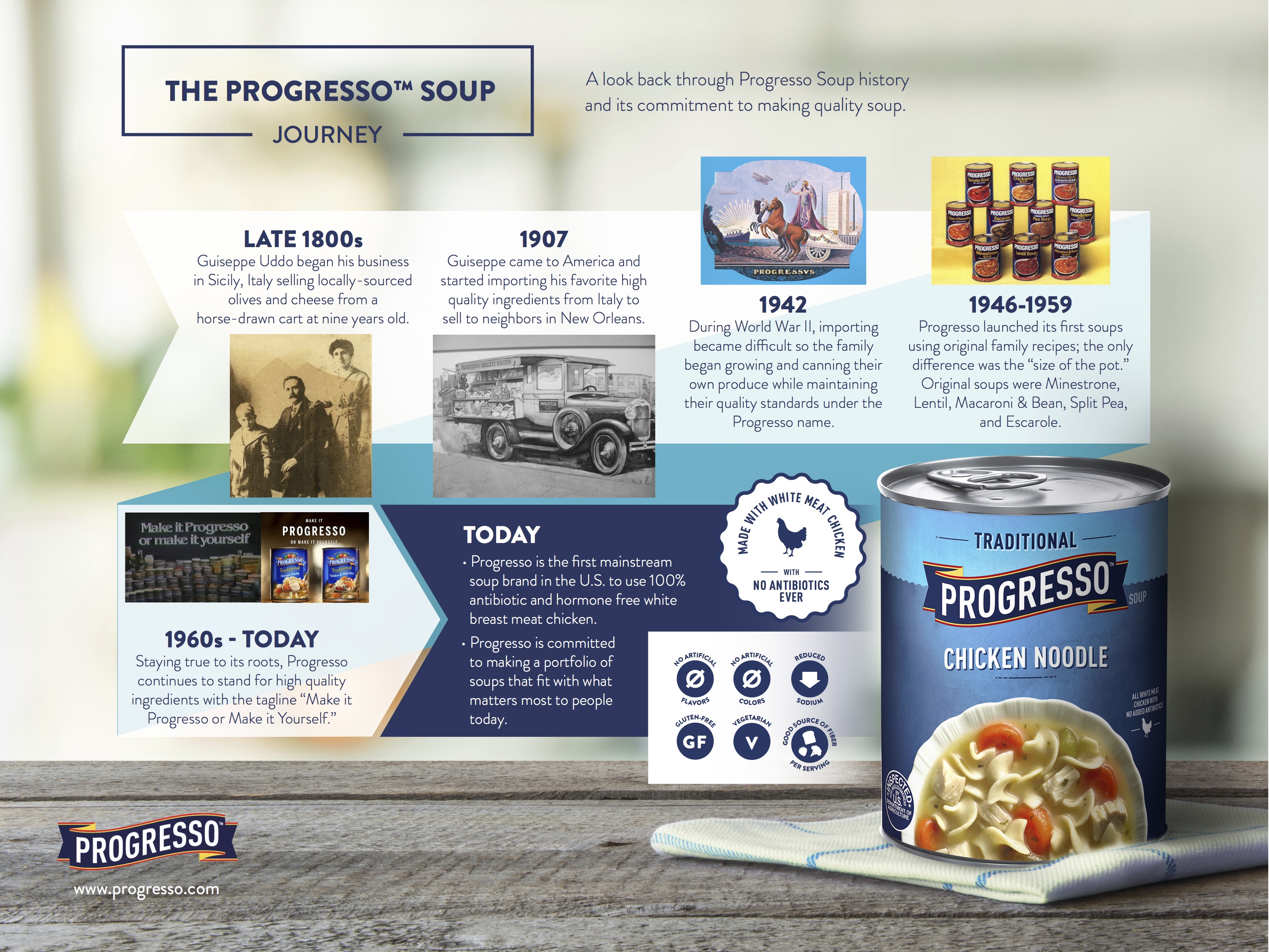 As Chef Raij says, these changes allow her more freedom at the grocery store, to have a sense of ease when encouraging her kids to reach for their favorite can of soup. For a mom, for a chef, that is everything. For me, it makes me excited about the future of food.
If you would like to learn more about Progresso soups and their new offerings, please visit their newly remodeled website at http://www.Progresso.com. Happy Slurping! Enjoy!