With the Year of the Dog fast approaching and my waistband so effortlessly expanding, I asked a few noodle-loving friends to share their favorite noodle dishes to help slurp in the Lunar New Year. Spring Festival, as some call it, is one of those celebrations I always look forward to in New York: the packed red & gold Chinatown parades, the pop of street fireworks, the endless lines for seats at your favorite Asian restaurants. These grand celebrations are an invitation to all cultures to come together and feast. So, gather your friends, eat good noodles and wish each other long lives and a fortune-filled Chinese New Year. Enjoy the picks below. And feel free to add your favorites in the comments.
What are a few of your favorite noodle dishes in New York City?
---
Hetty McKinnon, Cookbook Author of Neighborhood and Community  (@arthurstreetkitchen)
E-Fu Noodles from Congee Village 
E-Fu Noodles is probably my fave Cantonese noodle dish of all time. As a kid, we would fight over these noodles, commonly served underneath mud crab. I hadn't eaten this dish since I left Australia over 3 years ago, but just last week, I was reunited with this glorious, 'roll-your-sleeves-up-and-tuck-in' noodle dish at Congee Village in the Lower East Side. And their rendition is just as my mother would have made it – beautiful strands of golden, slightly chewy noodles, stir-fried with just shiitake mushrooms. Proving that the simple dishes in life are often the best. | Chinatown (map)
Hand-pulled Noodle Soup from Tasty Noodles 
You cannot go wrong with a steaming hot bowl of hand-pulled noodles at Tasty! This minuscule eatery is everything I am looking for in a restaurant – unassuming and low-key, serving honest food at a great price. I usually go for a bowl of noodles with vegetable broth and vegetable dumpling – is there anything better than noodles AND dumplings? | Chinatown (map)
Spicy Hot-Oil Seared Hand-Ripped Noodles from X'ian Famous Foods 
I'm a relative newcomer to the spicy joys of X'ian Famous Foods. These are flavors that I'm not all that familiar with – hailing from the northwestern region of China, with their heavy use of cumin and Sichuan peppercorns, this is Asian food with a heavy dose of middle eastern punch. But their wide, hand-ripped biangbiang noodles smothered in their house chilli spice has me hooked. The dramatic flavors and amped-up spices, so different from the mellow flavors of my native Cantonese cuisine, make me sweat and salivate at the same time. | Multiple Locations (map)
---
Gary Su, Founder, The Sugary Man (@thesugaryman)
Little Pot Mixian from Little Tong Noodle Shop
This hearty bowl of divine intervention is all you need on a cold winter's day to make you think that the world is a better place after all. Starting with a pork-based broth, this savory offering packs a punch with a flotilla of Mixian (rice noodles) mixed in with delicious fresh veggies and finished off with a mildly tart counterpoint in the pickled vegetables and chili vinaigrette. Altogether, it occupies exactly the right amount of real estate for its presence to create a balanced and utterly enjoyable experience. | East Village (map)
Torigara (Chef's Signature) from Nakamura
Thus far the best ramen spot I have been to…and I have been to a LOT of ramen spots.  The Torigara is an incredible bowl of deliciousness.  The sumptuous – yet not heavy – chicken-based broth marries the herbs & veggies with a nice portion of toothsome, fresh made noodles situated at the center of this homage to taste.  Bring a friend, savor the soup sparingly, and always leave room for more noodles. KAIDAMA!!!!! | Lower East Side (map)
Pan Fried Noodles with Beef from Congee Village **photo at top of post**
This is a truly lovely version of a pretty popular dish, only I have not had better. Take traditional thin, Cantonese style noodles and pan fry them until you get a pancake of crispy goodness.  Then, immediately slather the whole thing with meaty cuts of expertly cooked beef and Chinese broccoli, all coated in a thick brown sauce.  Apart from the flavor that is absolutely wonderful, this is ALL about texture! As you dig your spoon into the dish (several times if you want my opinion), you'll get a mix of the crispy noodles along with the noodles on the bottom that have softened while marinating in the gorgeous sauce! And yes, of course, the beef and veggies on top! But man, those noodles, mmm… | Lower East Side (map)
---
Sarah McLellan, Food & Travel Writer, Home Cook, Branded Content Editor Bon Appetit (@sarahmclellanny)
The Duet Noodle Soup from Noodle Village
I love stopping by this little staple in Chinatown for shrimp wonton and beef brisket noodle soup. There's something magical about the texture of slightly toothsome thin egg noodles, delicately wrapped little wontons filled with fresh shrimp, and then the tender, melt in your mouth beef that makes this dish one of my go-to comfort foods. The broth is rich and delicious on its own, but I always love to add some fiery chili oil to amp up the flavor. | Chinatown (map)
House-made egg noodles with Konbu Butter, XO Sauce & Pork Floss from Chinese Tuxedo
Granted, this restaurant is definitely a more modern spin on Cantonese cuisine but this dish has something special that keeps me craving it. The rich, umami-filled combo of the konbu butter and slightly funky dried seafood XO sauce tossed with silky handmade egg noodles is the slurpy, delicious goodness of your noodle dreams. I also love their fiery squid ink noodles with mussels, shiitake, and chili. | Chinatown (map)
Spicy Cumin Lamb Hand-Ripped Noodles from Xi'an Famous Foods 
Xi'an has a special place in my heart, not only because of their fiery noodle dishes but also because this was the very first meal Liza and I ate together as friends. I have had pretty much everything on their menu, but I do find the smoky cumin flavor with the lamb a unique spin. There's nothing like taking your first taste of the juicy, oily, spicy noodles that still have that perfect bite along with small chunks of peppery lamb and slices of cooling cabbage. This has cured a hangover or two! | Multiple Locations (map)
---
J Chao, Musician/Songwriter, Misha (@mishatheband)
Dan Dan Noodles from Madame Zhu's Hao Noodle and Tea
There are lots of different type of noodles, all hand-made and cared for, at Julia Zhu's Hao Noodle and Tea.  (It's in the name.)  There are angel-hair-like wonders, there are hearty, twisting ribbons, and there are optical-illusionary threads, noodles enough to strike fear in the completionists and the indecisive alike.  So I'll pick the dan dan noodles – not just because of the ink spilled on this dish, but because you can find dan dan noodles everywhere in Chinatown and Flushing.  And everyone does it differently.  Varying degrees of sour tang, Szechuan spiciness, size and proportion of scallions and chili oil to the noodles, gently covered or swimming in base.  At Hao, this is not the rough dan dan noodle at the local Chinatown joint, this is a work of loving balance, hint of spice, savory but not meaty, noodles light and slurp-worthy without soup.   Enough has been written about Hao's rendition that I'll just say, what I love about the dan dan noodles here is the same thing I love about Julia and the restaurant itself—fierce, graceful, fine, an uncommon gem slightly out of time in the busy, fast-fashion neon of trendy Chinese food today. | Greenwich Village (map)
Country Style Green Bean Sheet Jelly from Fu Run
There are lots of reasons to go to Fu Run.  For one, the slightly singed cumin lamb ribs that truly are to die for.  For another, the piping hot minced pork fried eggplant dish that, like Cinderella near midnight, have the shelf life of blink-and-it's-too-late.  For me, I always start with the green bean sheet jelly.  Partly because it is almost comically, defiantly misnamed.  What arrives is not a dessert, but a light-as-air, cold assemblage of julienned cucumbers, wood ear, sesame paste, vinegar, translucent flat noodles, and a very, very healthy heaping of garlic.  What I like about this noodle dish is that, every time I order it, it takes a few bites before my taste buds stop searching for the heavy-brush, salty-sweet hot of the Flushing drag and, instead, slow down to taste the cilantro, notice the q-q chew of the noodles, the sesame sauce and vinegar, and the slow burn of the garlic.  And every time I am surprised by the palette of light yellows and blues, no burning reds or fierce greens; as if Fu Run is reminding me to stop anticipating what I expect to taste, and instead, to attenuate and appreciate something more subtle, wonderful, and strange.  Because it speaks quietly.  So that's the Sheet Jelly – existentially lovely. | Flushing (map)
---
Liza Mosquito deGuia, Founder/Chief Storyteller, TV Host, food. curated. (@skeeternyc)
Ants Climbing a Tree from Kings County Imperial
When I want a deeply satisfying dish of earthy, umami powered noodles, I head to King's County Imperial for Ants Climbing a Tree. Ask me about the name, and I'll tell you it's poetic. To more accustomed folks, it's a visual cue of the popular dish. As you pull the noodles from the steaming clay pot, imagine flavorful, tiny, ant-like masses of ground pork clinging to long, sticky yam cellophane strands – the scent of garlic, scallion and sesame gripping you.  I especially love the elasticity of the noodles against the soft tree ear mushrooms and chewy crumbles of pork. I crave this dish because it balances a funky taste of spicy Sichuan chili paste with a wink of dark, fermented sweetness. Their small-batch, handcrafted soy sauce kept on-tap, I believe has a lot to do with it. If you come here, order it with their tingly, salt/pepper fried Ma La Oyster Mushrooms and you can't go wrong. | East Williamsburg (map)
Seolleongtang Oxtail Soup from Gammeeok
I'm warning you, in a good way, this dish is all about the broth. Yes, it's a noodle dish. Yes, the noodles are delicious, but less as the centerpiece and more as important vessels for soaking in this cure-all Korean soup. To me, seolleongtang is a dish worth knowing intimately. Broth for broth, it's better and more exciting than chicken noodle soup. It's what I want when I'm feeling sick or under the weather. It's also astoundingly white. The color of the inside of clouds. Or a dense, thick fog. The owners of Gammeoak tell me it takes hours and hours of straining and purifying hundreds of pounds of oxtail bones each week to arrive at their special recipe. For a meat-based soup, it's surprisingly light and unquestionably soothing. Add salt and pepper to taste, a sprinkle of fresh scallion and spoon it down between chunky bites of sliced beef and soft rice noodles. A bone broth lovers' and worried mothers' dream come true. | Koreatown (map)
Beef Noodle Soup at Lao Bei Fang Dumpling House
When you want to eat a quick, super cheap bowl of noodles where the locals eat noodles, there is no question of the quality you can find at Lao Bei Fang Dumpling House in Elmhurst. The portions are big. The ambiance is more function over beauty, but the noodles here are always soft to the bite, fresh and hand-pulled. In fact, you can watch the show take place from the counter as you filter through the extensive menu of meat & vegetable combos. I like to get the #1 Beef Noodle Soup in an aromatic 5-spice broth that comes with surprisingly large cubes of salted beef. You'll love the thickness of the noodles and their delicate texture which only comes from noodles so carefully hand-pulled. Spike it up with their signature chili oil, and the Year of the Dog just got more hopeful. Just remember, it's cash only! | Elmhurst (map)
---
Caroline Hahm, Chef, Health Coach, Forager & Gardener (@carolinehahm)
Jajangmyeon and Jjamppong from Sam Won Gahk
Most people don't know that there is a whole sub-category of Korean food.  Korean-Chinese. And there are multiple Korean-Chinese restaurants all throughout New York.  I grew up going to Flushing on the weekends with my family to go to church, Korean school, grocery shopping, social gatherings and eating out.  I remember going to Sam Won Gahk.  Our family would order a few appetizers that all Korean-Chinese restaurants have and the main meal would be either one of these noodle dishes.  Jajangmyeon which is a dish with thick, chewy noodles topped with a thick black bean sauce which is usually made with sauteed pork and onions.  The other main dish is Jjamppong which is a dish with the same kind of thick chewy noodles but in a spicy broth that could clear any sinus congestion or warm any chills and cause the sweats. | Flushing (map)
Chik Naengmyeon from Geum Sung
Anytime my family would have a bbq in the backyard (which was often) throughout my childhood, I have fond memories of my father standing over the grill cooking the meat as my mother, grandmother, aunts, and friends would prepare all kinds of side dishes and/or pick lettuce, perilla leaves and peppers from my grandmother's garden.  One of the "side dishes" to Korean bbq was usually "naengmyeon" which is a particular kind of noodle that is unlike any other noodle in any other Asian cuisine.  It's very elastic and chewy and is traditionally prepared either "mixed" aka "bibim naengmyeon" or in a cold broth.  There is no other food memory that compares to the memory of those backyard bbqs.  The smells, the tastes, the feeling of being hot and tired from a day at the beach and/or fishing and then coming home to the whole family and usually family friends contributing to make dinner over a charcoal grill.  The contrast of the cold broth noodles with the Korean bbq is incomparable in my memory.  And within the category of naengmyeon noodles, there are many varieties.  My favorite is "chik naengmyeon" which is a noodle made from arrowroot. | Flushing (map)
Below is a photo of chik naengmyeon from my pop-up in Austin.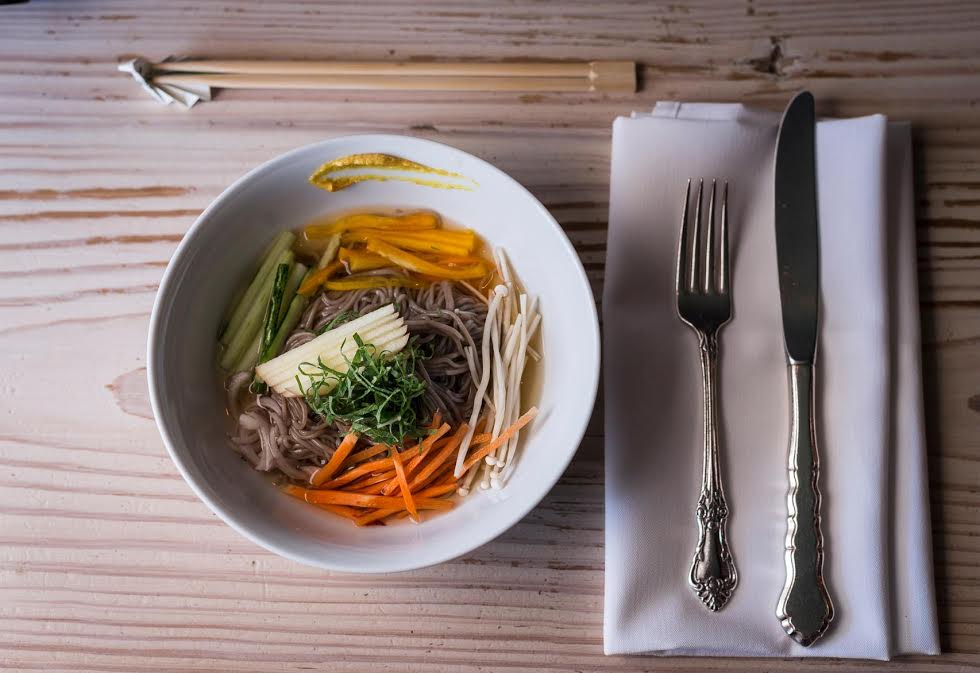 Japchae from Kum Gang San
You can't go to any Korean celebration whether it be a birthday, wedding, anniversary, without there being a tray of japchae on the buffet table. Japchae is a gluten-free noodle made from sweet potato starch.  I started making this for clients in Austin who wanted variety in their day-to-day lunch and dinner repertoires without compromising taste and texture.  It's difficult to find really good gluten-free substitutes for bread and pasta, but I have to say these noodles are awesome!  Chewy and elastic and are meant to be eaten at room temperature.  Traditionally, they are mixed with all kinds of vegetables and even thin sliced egg crepes and beef.  I don't have a truly favorite restaurant recommendation because these noodles were mainly consumed at home or at some celebration, but the japchae at Kum Gang San in Flushing has definitely withstood the test of time. | Flushing (map)
Thanks for stopping by food. curated.! Happy Eating!! xx