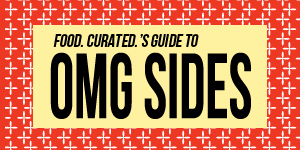 This week, I helped JoinBklyn, a hip arts and culture blog, pull together a pretty impressive selection of my favorite side dish and appetizer recipe ideas called OMG Sides for their 2011 Holiday Guide.  Take a peek! There are ideas for meat lovers, seafood lovers and veggie lovers too! The recipes come from artisans I've featured in my video stories, in addition to one from my dad. You know, because what's the holidays without family.
Hope you enjoy! Below is a short list of the OMG Sides you'll find:
Happy Holidays to you and your loved ones! And thanks so much for supporting and watching food. curated. this year. We're excited for a whole new season of passion-filled food stories for 2012. So stay tuned!