"My face is in people's fridges that I don't know. I think that's kinda cool."
Meet Anna Wolf, the founder & owner behind My Friend's Mustard, an artisan beer mustard crafted in Greenpoint, Brooklyn. Anna, a "mostly-self-taught" cook claims that her mustard company was never really planned. After quitting her job in advertising, she found herself cooking more and more, and on a whim one day decided to play with a recipe for whole grain beer mustard. The end result turned out so good, she started to share it with friends, then friends of friends, holding tasting parties, and tweaking the recipe along the way until it was perfect. Through the encouragement of a close pal, she decided to turn her hobby into a small artisan food business, and in August 2010 Anna introduced her spicy handmade mustard recipes to artisan shops and restaurants in Manhattan and Brooklyn: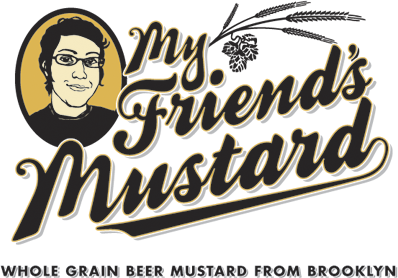 Jalapeño IPA Mustard Made with Sixpoint Bengali Tiger IPA, pickled jalapeños, and a unique blend of spices with a kick!
Spicy Brown Ale Mustard Made with Sixpoint Brownstone Brown Ale and a warm spice blend with a hint of brown sugar sweetness.
So take a peek into My Friend's Mustard's production process and tiny kitchen inside The Palace Cafe, and hear what Anna has to say about the magic of beer and mustard. You can purchase the mustard at a number of local shops listed below:
Brooklyn
Manhattan
Thanks for watching food. curated. Happy eating!