Regal Vegan Basilicotta™ & Broccoli Rabe Calzones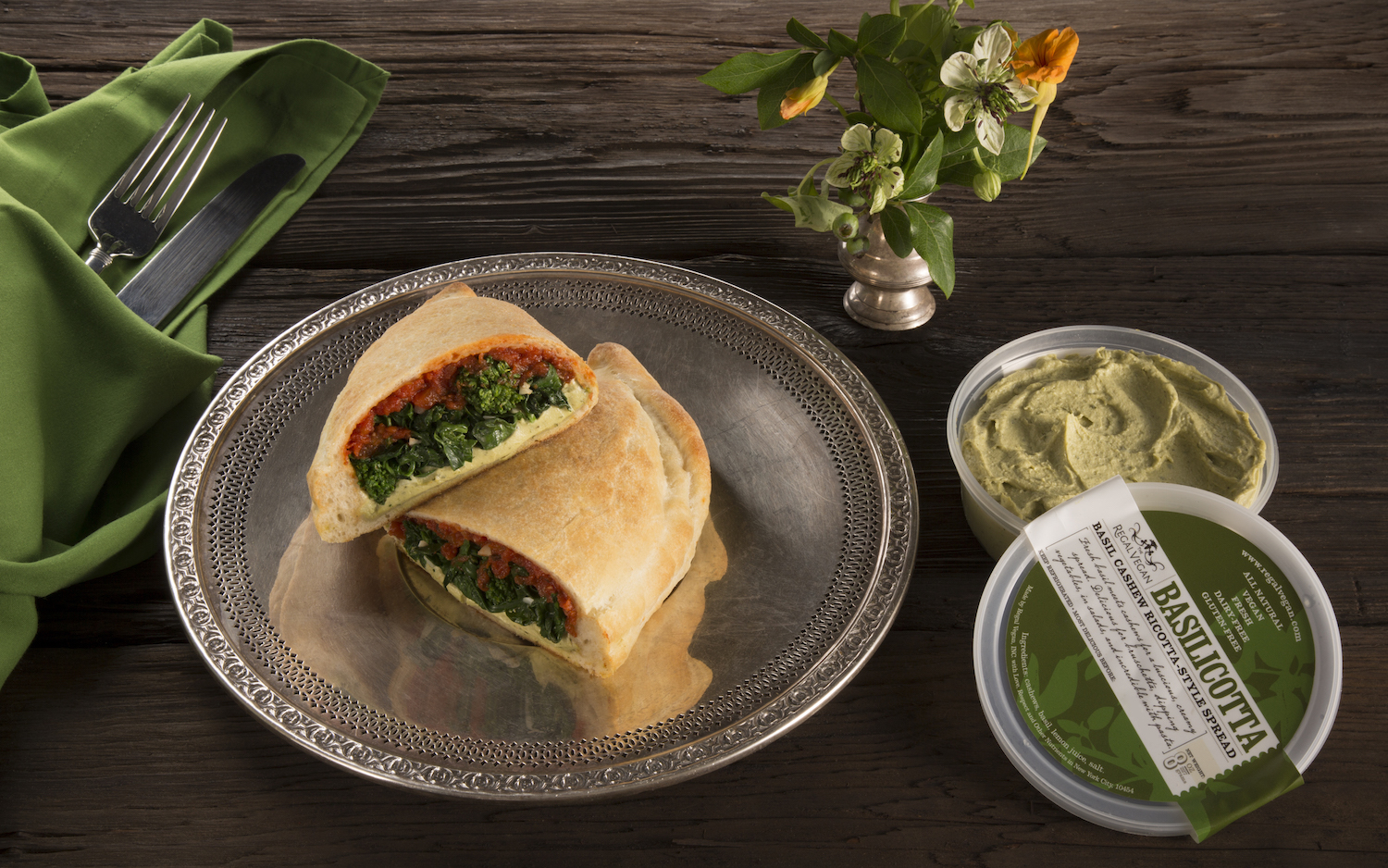 Not too long ago, eating Vegan carried with it the feeling of deprivation. Thanks to culinary Saints, like Regal Vegan, we have recipes like this sinful Basillicotta and Broccoli Rabe Calzone to deliver us to indulgence in Vegan Heaven.
Ingredients
Instructions
Set a large pot of salted water to boil. Prepare a large bowl of ice water. When the water comes to a rolling boil, add the broccoli rabe. Let it boil for one minute or till it becomes bright green. Remove immediately with a large "spider" or drain out into a colander and plunge into ice bath. When cool, squeeze the water out and set aside. In a large skillet on medium heat, add 2 tablespoons of the olive oil. Add the minced garlic and allow the garlic to heat up in the oil. When the garlic starts to sizzle, add the broccoli rabe. With tongs or a wooden spoon, toss the broccoli in the garlic and oil mixture. Once it is all coated, turn off the heat and season to taste with salt. Let this cool while you prepare your dough.

Divide dough into 4 pieces. Roll each quarter in your hand until it forms a ball. Working one at a time, roll out on the ball of dough on a floured surface using a rolling pin until it is flat, round and about ⅛ thick (or around the size of a small plate ). if you don't have a rolling pin, you can just stretch it with your fingers, puling gently around the perimeter as you go around.

Spread one half of the dough with ¼ of the container of Basilicotta, being careful to leave a quarter inch border around it. Place ¼ of the broccoli rabe on the dough, and follow with ¼ of the strained marina sauce. To close each calzone, run a little water around half the dough's border and stretch the free half over the broccoli and basilicotta covered dough. Pinch closed to form a half moon. Pinch tightly and brush with olive oil. Bake in 450° oven for 20 minutes, or until risen and golden on top.
Notes
Enjoy hot, cold or wrap tightly and freeze for an amazing future.
Have you tried this recipe from Regal Vegan?  Do you love it? Stay tuned to food. curated. for more great recipes.  Happy Eating!