Regal Vegan Banh Mi Sandwich
Prep Time
20
minutes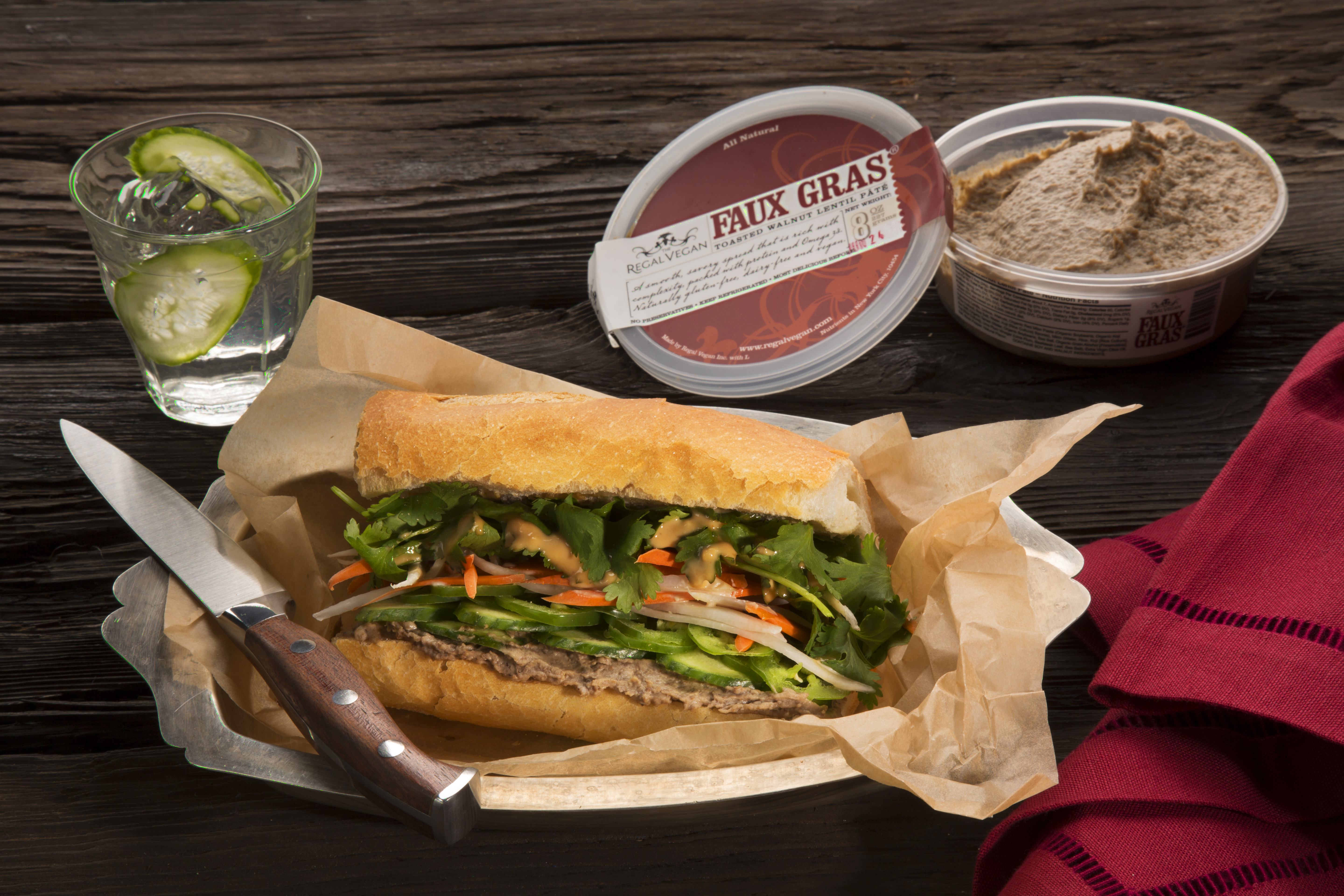 In the food. curated video for Regal Vegan, the founder, Ella, claims that her Faux Gras is such a great vegan substitute for creamy, rich Foie Gras, that she can fool Jewish Grandmother's into eating Vegan. In this recipe for Vietnamese Banh Mi sandwiches, Ella has set out to fool your Vietnamese Grandmother by replacing the pate layer with her delicious all-purpose Faux Gras. When trickery is this delicious, the more the merrier!
Ingredients
Instructions
Sandwich Assembly
Prep the vegetables, prepare the sauce and make the pickled vegetables. If you don't have time to make the pickled veggies in advance, dunk julienned carrots and daikon in hot white vinegar until you are ready to make the sandwich.

Slice the baguette in half. With a spatula, spread the Faux Gras® across the length of the bread. Start layering the other vegetables; jalapeño slices, cucumber slices, the pickled carrots and daikon, then stuff it with the cilantro.

Finally drizzle the special sauce over the sandwich filling, close and slice into 3 even portions with a serrated knife OR have one very big sandwich. Enjoy!
Pickled Carrot and Daikon recipe
Grate, julienne or shred on the shredding disk of a food processor 2 large carrots and one big daikon. Set aside. Add . cup of apple cider vinegar and . cup of water to a pint sized jar. Add 1 tsp salt and 1 tsp sugar. Stir to combine. Add the carrot and daikon and seal tightly. Let sit for at least a day though the longer this sits, the better it is.
Special Sauce
Add 2 TBS Tamari sauce (or use soy sauce) and 2 TBS Sriracha to 16 oz of vegenaise. Whisk to combine and pour into a squeeze bottle. Keep in the fridge for use on - everything.
Notes
Have you tried this vibrant vegan recipe for Regal Vegan Banh Mi? Did it fool your Vietnamese Grandmother?
Stock up on Faux Gras and head back to food. curated for more delicious recipes all season long! Happy Eating!