photo by Winona Barton-Ballentine

Ovenly's Gooey Honey Blondies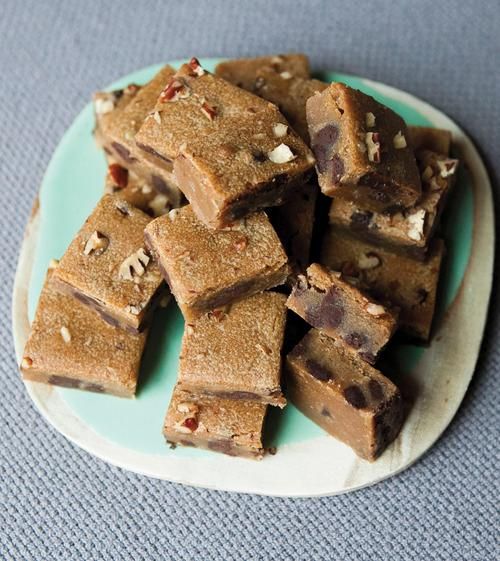 This recipe from our good friends at Ovenly amps up the flavor of traditional blondies by giving them the deliciously buttery sweetness of the fabled Ooey Gooey Cake!!! Erin and Agatha recommend using chocolate that is 60% or higher cacao. Either way, the recipe is almost too easy to make something so incredible.
Ingredients
Instructions
Preheat the oven to 350ºF. Grease an 8 x 8-inch baking pan with softened butter and dust the pan with flour.

In a small saucepan over low heat (or in a small, microwave-safe bowl in a microwave oven), melt the butter and set aside to cool.

In a large bowl, whisk together the melted butter, sugars, honey, egg, salt and vanilla extract until smooth. Add the flour and chocolate chips, and mix together with a wooden spoon or a rubber spatula.

Spread the batter in the prepared baking pan. Smooth out the top and edges, and then top with the pecans.

Bake for 25 minutes, or until the center is just set and the edges are barely golden. The blondies will be fully set when cool

Cool completely before cutting the blondies into 16, 2 x 2-inch squares.
Notes
Enjoy with your favorite coffee or with a nice organic glass of milk!
What do you think? Was Ovenly's Gooey Blondie recipe as easy as it was delicious? Pick up a copy of the Ovenly Cook Book.  We'll bring you more recipes that are simply delicious on food. curated. every week! Enjoy!