Monk's Meats Seitan Sloppy Joe
Prep Time
10
minutes
Cook Time
30
minutes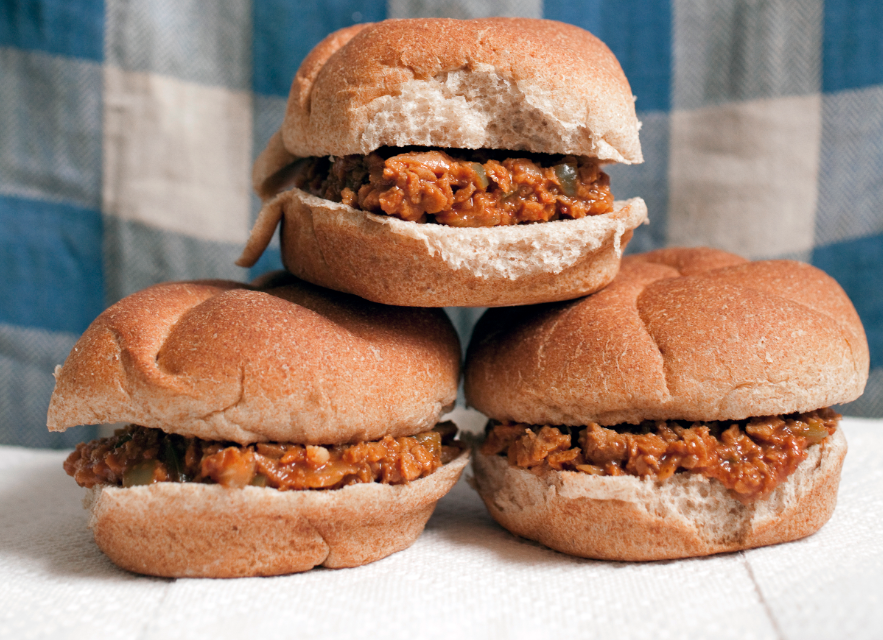 From time to time, Vegans crave the old-fashioned staples of Americana eating that the rest of the world whip up on picnics and family BBQs. Things like burgers, hotdogs and fried chicken have pre-made analogs that you can find fairly easily in most health stores. But there are certain treats that just don't seem right unless they are HOME MADE. This fantastic Sloppy Joe recipe from our dear friends at Monk's Meats uses their delicious chipotle Seitan to replace the meat products and, honestly, it's way better than the bottom-grade ground beef version we remember from school lunches. So serve this recipe at your next BBQ and turn a few carnivore's heads!!!
Ingredients
Instructions
In a large braising pan or skillet, melt butter over medium-high heat. Add onions. Cook for 2 minutes until soft but not browned. Add green peppers and garlic. Cook for 1 minute. Add ground seitan. Cook, stirring occasionally, for 5 minutes.

Add ketchup, brown sugar, chili powder, mustard, red pepper flakes, Worcestershire sauce, Tabasco sauce, and water. Add salt and pepper to taste. Stir to combine ingredients uniformly. Simmer over medium-low heat for 20 minutes stirring occasionally.

Toast buns. Spoon mixture over buns and serve hot with potato chips and a simple mixed green salad.

Salt and Pepper to taste
Notes
Try this simple stackable recipe from Monk's Meats and let us know what you think! Better than meat?
Thanks for checking out this recipe on food. curated. and stop back for many more vegan recipes!  Happy Eating!